Anne Brooks, Kentucky State University- c/o 2013, Music
Where are you from? Who introduced you to HBCUs?*
I was born and raised in Louisville, KY. When I was younger, I didn't know about Kentucky State until I was the summer I was to leave for college.
Anne Brooks, proud Kentucky State University graduate!
Why did you choose an HBCU over a pwi?*
I chose KSU because of my neighbor Mrs. Ratliff was an alumnus of the school who paved the way to me getting the scholarship opportunity, being away from home, small classes and the beauty of the campus.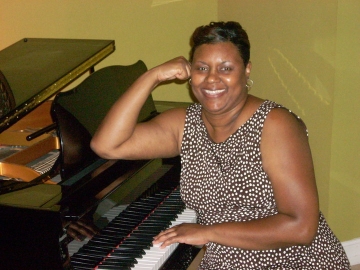 Talented and Beautiful, Anne Brooks of KYSU
What is the story of your "experience" at Your HBCU given its heralded status as a stellar and prestigious institution?*
Attending KSU was the next chapter of my development as a young woman who had dreams of becoming a educator who gave back through teaching music. This including building relationships with other students outside of Louisville who have become live long friends to this day.
"First time" experiences at your HBCU?*
N/A
Who are the professors that have impacted your life in and out of the classroom? How did they do that?*
Dr. Smith, my former choral director. Doc as we call him held a high level of expectation in the performance of choral music. Which has led into my classroom teaching and the expectation of what my students should display. I was honored to have him rate my chorus when I taught in Louisville at the district choral assessment.

anne brooks kentucky state university 93 4
Best restaurants on/near campus? Best dishes?
Ritchie's it was the pink lemonade, 2 piece and wedges
College crush?
Keith Jackson freshman year
Kentucky State University
Students: 2,159
Under Graduates: 2,025
Post Graduates: 134
Athletics: Kentucky State University competes as a member of the Division II Southern Intercollegiate Athletic Conference. Men's sports include baseball, basketball, cross country, football, golf, and indoor and outdoor track and field; while women's sports include basketball, cross country, indoor and outdoor track and field, softball and volleyball.
Notable Alumni: Yingluck Shinawatra - 1991 - The 28th and first female Prime Minister of Thailand** Moneta Sleet Jr. - 1947 - Photographer for Ebony, won a Pulitzer Prize for his picture of Coretta Scott King at the funeral of Martin Luther King, Jr.** Davey 'Wiz' Whitney - 1953 - Former head basketball coach at Texas Southern University and Alcorn State University. One of the winningest coaches in HBCU basketball. Inducted into National Collegiate Basketball Hall of Fame** Whitney M. Young Jr. - 1941 - Former civil rights leader, educator and executive; former Executive Director who led the National Urban League through its most prosperous period; served many presidential commissions including as a Vietnam elections observer in 1967**
Website: http://www.kysu.edu/


Latest Trending Interviews
Interviews Featuring "Kentucky State University"
Interviews Featuring "Music"