Brandon Bellamy, North Carolina A & T State University- c/o 2013, Liberal
Name : Brandon Bellamy
HBCU : North Carolina A & T State University
Graduation Year : 2013
Major : Liberal
Where are you from? Who introduced you to HBCUs?*
I am originally from Greensboro, North Carolina and grew up literally on A&T's campus while my mother and father worked on post-graduate education opportunities. I completed high school and now call home in the Washington, DC metropolitan region.
Meet Dr.Elazer Barnette, currently the Associate Vice President for Academic Affairs and Planning Dean at Savannah State University
Why did you choose an HBCU over a pwi?*
I went to high school in Fairfax County, Virginia and in many cases I was the only African American male in many of my honors and AP classes. Knowing that all of my family had attended HBCUs I knew to consider them, but I had to be realistic about some of my other opportunities. My choice to attend an HBCU over a PWI was made purely on personal preference, I was ready to go "home."
What is the story of your "experience" at Your HBCU given its heralded status as a stellar and prestigious institution?*
I walked on campus knowing that there were many people who would tell me that "I knew you before you knew yourself." Those figures were great to have when things got tough, but at the same time caused some internal conflict about my own journey. Nevertheless, the old adage that your college experience is what you make of it rings true. This question could have me going on for a long time, but I want to center on two things – hard work and respecting our legacy.
2006-2007 SGA Executive Board (Moody Administration – 11 Backs Against the Wall)
"First time" experiences at your HBCU?*
N/A
Who are the professors that have impacted your life in and out of the classroom? How did they do that?*
It is hard to single out a few professors who left very large impressions upon me because each of them did in their own special way, even faculty who I never completed coursework with.

However, Dr. Terrolyn Carter, Dr. Samuel Moseley and Dr. Peter Myers all played varying roles in how I view my time at A&T and how I view the world today.

My coursework with these three professors worked to strengthen me as a critical thinker, pushing past my own capabilities to become a person. I thoroughly enjoyed that these faculty members made sure that their classrooms were inclusive learning environments where we are able to challenge our existing assumptions and pursue concepts that we were interested in as it related to the coursework and our academic interests.
What sports and/or extra curricular activities did you do in High School? And why?
No sports, just band. In fact, there is a varsity letter for my tenure in the marching band at Falls Church High School where I was drum major in 2003-04. Additionally, I was involved in Student Government, the county-wide Student Advisory Council, Legacy club, yearbook and a number of other groups.
Best restaurants on/near campus? Best dishes?
Being from Greensboro, I would enjoy to get off campus and visit places such as Libby Hill, Stameys BBQ and Yum Yums Hot Dogs and Ice Cream.
College crush?
That is between me and her. However, I did enjoy my time at A&T and met some very incredible people, many of which I am still in contact with.
North Carolina A & T State University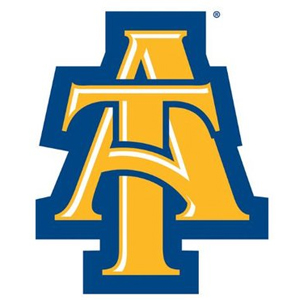 Students: 10,725
Under Graduates: 9,203
Post Graduates: 1,522 (Post Grad) / 253 (Doctoral)
Athletics: North Carolina A & T State University is a member of the Mid-Eastern Athletic Conference and offers Basketball, Baseball, Bowling, Golf, Cross Country, Football, Softball, Tennis, Track and Field, and Volleyball.
Notable Alumni: Ronald McNair - 1971 - Physicist and NASA astronaut; died during the launch of the Space Shuttle Challenger on mission STS-51-L** Patrick Cannon - 1991 - Former Democratic Mayor of Charlotte, North Carolina** Poon Chi-fai - Member of the Legislative Council of Hong Kong and Kwun Tong District Board** David Richmond, Franklin McCain, Joseph McNeil, and Randolph Blackwell - 1963 - Civil rights activist and member of the Greensboro Four/A&T Four; staged a sit-in at the Woolworth lunch counter in downtown Greensboro on February 1, 1960** Jesse Jackson Sr. - 1964 - Civil rights activist; Baptist minister; candidate for the Democratic presidential nomination (1984 and 1988); shadow U.S. Senator for the District of Columbia (1991-1997); founder of the organizations that merged to form Rainbow/Push Coalition** Joe Dudley - 1962 - Businessman and hair care entrepreneur; founder, president and CEO of Dudley Products Inc., a manufacturer and distributor of hair and skin care products for the African American community** Janice Bryant Howroyd - Entrepreneur; Founder and CEO of ACT-1 Group** Taraji P. Henson - Transferred to Howard University - Actress** Terrence J - 2004 - Actor and television personality; host of BET's 106 & Park; co-anchor of E! News** Warren Ballentine - Motivational speaker, attorney, political activist, and radio talk show host** Dwaine Board - 1979 - Former NFL player and coach; played for the San Francisco 49ers and New Orleans Saints (1979-1988); four-time Super Bowl champion (XVI, XIX, XXIII and XXIX)**
Website: http://www.ncat.edu/


Latest Trending Interviews
Interviews Featuring "North Carolina A & T State University"
Interviews Featuring " Liberal"