Cierra Michelley, Fort Valley State University- c/o 2013, Biology
Where are you from? Who introduced you to HBCUs?*
Lithonia, Georgia. I currently reside in Decatur, Georgia. High school teachers and my mom always talked about HBCU's.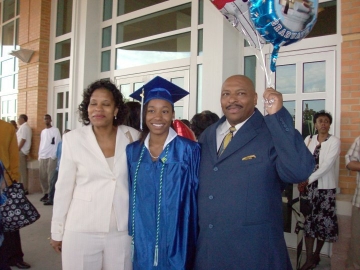 Cierra Michelley with her parents | Image Credit: Cierra Michelley
Why did you choose an HBCU over a pwi?*
My mom went to a HBCU and she wanted me to be Cierra not jus a number on a roll.
What is the story of your "experience" at Your HBCU given its heralded status as a stellar and prestigious institution?*
Lol honestly, it reminds me of high school.
"First time" experiences at your HBCU?*
N/A
Questions about the HBCU Experience? Need tips on completing your college application? Respectfully contact Cierra Michelley | Image Credit: Cierra Michelley
Who are the professors that have impacted your life in and out of the classroom? How did they do that?*
Dr Hardman, Dr Fields, Mrs Sibley, Dr Herd-Clark, they really care about our educational success, but they'll give you tough love to prepare for the 'real' world.
What sports do/did you play at your HBCU? What positions?
N/A
What sports and/or extra curricular activities did you do in High School? And why?
N/A
Best restaurants on/near campus? Best dishes?
I've been there since '10 nothing is good to me anymore but we have quiznos chick-fila papa johns and a jazz cafe in our library
Who invited you to interview with us?
N/A
Your wildest moment at college?
N/A
What is your funniest college story? (everyone has one lol)
N/A
Fort Valley State University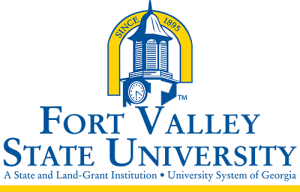 Students: 2,227
Under Graduates: 2,004
Post Graduates: 223
Athletics: Fort Valley State University athletic opportunities include intramural sports and intercollegiate men's basketball, cross country, football, tennis, and track and field, and women's basketball, cross country, softball, tennis, volleyball, and track and field. The school currently competes as a member of the Southern Intercollegiate Athletic Conference (SIAC).
Notable Alumni: John W. Blassingame - 1960 - Professor and Chair of African Studies at Yale University for 29 years** Nick Harper - 2001 - Former NFL cornerback for the Tennessee Titans and Indianapolis Colts** Marquette King - 2012 - NFL punter for the Oakland Raiders** Ricardo Lockette - Former NFL wide receiver for the Seattle Seahawks, San Francisco 49ers** Robert J. Jones - 1973 - Chancellor at the University of Illinois at Urbana-Champaign** Charles Robinson, Jr. - 1970 - President and CEO of Sadie G. Mays Health and Rehabilitation Center in Atlanta; first African American to become certified by the American College of Healthcare Administrators** Calvin Smyre 1970 - Elected to the Georgia House of Representatives in 1974 as its youngest member at age 26; current Executive Vice President of the $34 billion financial corporation Synovus Foundation**
Website: http://www.fvsu.edu/


Latest Trending Interviews
Interviews Featuring "Fort Valley State University"
Interviews Featuring "Biology"