Jamia Robinson, Morgan State University- c/o 2016, Mass Communications
Name : Jamia Robinson
HBCU : Morgan State University
Graduation Year : 2016
Major : Mass Communications
Where are you from? Who introduced you to HBCUs?*
I am from Kennesaw GA. I was introduced to HBCU by my track coach.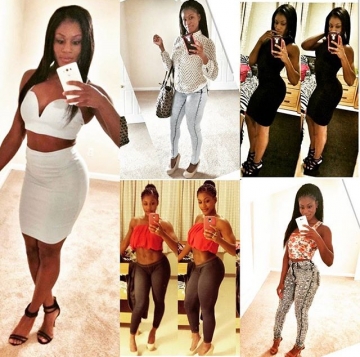 Why did you choose an HBCU over a pwi?*
I actually attended two other colleges before I chose MSU. When I went for a visit there before finishing up my sophomore year at CENTRAL ARIZONA COLLEGE, I fell in love. It was different. The people were intelligent. Their mind set displayed characteristics of individuals I wanted to be around.
What is the story of your "experience" at Your HBCU given its heralded status as a stellar and prestigious institution?*
Well I kept busy. I was a college track athlete. I took 20hrs+ every semester except my last. I would say I was very focused because I had a lot on my plate and failure was not an option.
"First time" experiences at your HBCU?*
I was in culture shock. I wasn't used to seeing so many people that looked like me. I felt like I actually fit in for once.
Who are the professors that have impacted your life in and out of the classroom? How did they do that?*
Professor Eric Dodson. Amazing man. Great professor. He really taught us how to think. My mind was constantly challenged. To this day I will see a Facebook post or something of his and I will analyze it. Nothing he ever says is what it appears. There is always deeper meanings to everything. Critical thinking.
Morgan State University
Students: 7,698
Under Graduates: 6,302
Post Graduates: 1,396
Athletics: Morgan State University offers men and women's basketball, cross country, tennis and track and field; women's-only bowling, softball, and volleyball; and men's-only football. Morgan State University competes in the NCAA Division I FCS and are members of the Mid-Eastern Athletic Conference.
Notable Alumni: Earl G. Graves - 1957 - Entrepreneur, philanthropist, founder of Black Enterprise magazine** David E. Talbert - playwright, TV producer, and entrepreneur** Dan Foster - Nigerian-based radio DJ** Mo'Nique - attended - Academy Award winning actress** William C. Rhoden - 1972 - New York Times columnist** Jae Deal - 2002 - Composer, music producer** Jan M. Alexander - 1982 - Judge, District Court of Maryland for Baltimore County (2002–2010), Circuit Court, Baltimore County (2010–)** Alexander Wright, Jr. - Judge, Circuit Court, Baltimore County (1998–2000); Judge, Maryland Court of Special Appeals (2008–)** Catherine E. Pugh - Mayor of Baltimore**
Website: http://www.morgan.edu/


Latest Trending Interviews
Interviews Featuring "Morgan State University"
Interviews Featuring "Mass Communications"