LeTavious Brown , Morris College- c/o 2013, Biology
Name : LeTavious Brown
HBCU : Morris College
Graduation Year : 2013
Major : Biology
Where are you from? Who introduced you to HBCUs?*
I was born and raised in Conway, South Carolina. I first heard about Morris College when we had a college workshop day at my high school. I expressed an interest in obtaining a degree in Biology so I could go on to Vet school and I was introduced to Dr. Maggie Glover, former Senator turned HBCU-UP director.
Students learning about Morris College from a "MoCo" rep
Why did you choose an HBCU over a pwi?*
I choose it (HBCU over a pwi) because of the promise of a family bond that wouldn't be broken and the fact that I wouldn't become a number lost in the masses of students. To this day that promise hasn't been broken
Wilson-Booker Science Building on the Morris College Campus
What is the story of your "experience" at Your HBCU given its heralded status as a stellar and prestigious institution?*
It's been around for a century helping young men and woman move on to a greater stage in life with a staff that is here to help, and when I got there in 2006 it was no different. Everyone there was willing to point us young men and women in the right direction.
"First time" experiences at your HBCU?*
N/A
Who are the professors that have impacted your life in and out of the classroom? How did they do that?*
N/A
What sports and/or extra curricular activities did you do in High School? And why?
I didn't play a sport actually.
Best restaurants on/near campus? Best dishes?
The best restaurant was an asian cuisine joint called Teriyaki Wok. They gave you so much food for so little money. The other favorite spot was Murray's they had the best donuts on Earth. Forget Krispy Kreme, and Dunkin Donuts, Murray's had them beat
College crush?
I spent my time in the science labs until I was blindsided by Devin Vestal one day my senior year. Now we're engaged to be married on March 8, 2014. I love her more than anything on this earth.
Morris College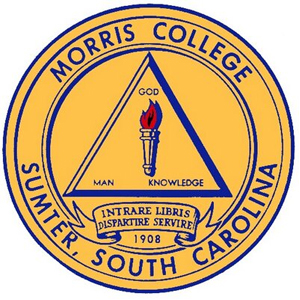 Students: 1,200

Athletics: Morris College are part of the National Association of Intercollegiate Athletics (NAIA), primarily competing as an Independent of the Association of Independent Institutions (AII). Men's sports include baseball, basketball, cross country, golf, tennis and track & field; women's sports include basketball, cross country, softball, tennis, track & field and volleyball.
Notable Alumni: Dr. Leroy Bowman - 1940 - one of the original legendary Tuskegee Airmen of World War II** Laura Hall - 1965 - Politician; Member of the Alabama House of Representatives from the 19th district** Herman Harris - 1963 - Participated in Freedom Rides** James T. McCain - Sumter County Council Vice Chairman; civil rights activist; local president of CORE; participated in Freedom Rides** Jerry Moore - 1963 - Participated in Freedom Rides** Mae Francis Moultrie - 1961 - Participated in Freedom Rides** J. David Weeks - 1975 - Politician; Member of the South Carolina House of Representatives from the 51st district; serves on the Judiciary Committee and was chair of the Legislative Black Caucus**
Website: http://www.morris.edu/


Latest Trending Interviews
Interviews Featuring "Morris College"
Interviews Featuring "Biology"