Omar Talib, Cheyney University- c/o 2013, Chemistry
Name : Omar Talib
HBCU : Cheyney University
Graduation Year : 2013
Major : Chemistry
Where are you from? Who introduced you to HBCUs?*
I was born and raised in Philadelphia. I attended Abraham Lincoln High School and heard about HBCUs from a recruiter.
Why did you choose an HBCU over a pwi?*
Hearing the history of most HBCUs makes the choice seem so natural and easy.
What is the story of your "experience" at Your HBCU given its heralded status as a stellar and prestigious institution?*
It is entirely too easy for the media to control the image of what it is to be black. The HBCU experience, to me, is seeing that so many of us transcend each and every stereotype. There were so many bright personalities that graced the campus. You can't help but to grow in love for yourself and your people.
"First time" experiences at your HBCU?*
N/A
Who are the professors that have impacted your life in and out of the classroom? How did they do that?*
N/A
What sports and/or extra curricular activities did you do in High School? And why?
I was academically unstable in High School. I couldn't play sports or participate in much during that time.
Best restaurants on/near campus? Best dishes?
Hot wings and pizza are the only food groups a successful college student needs! Brother's and Pizza U were the two hot spots near campus.
College crush?
I will plead the fifth.
Cheyney University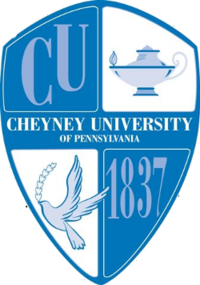 Students: 711

Athletics: Basketball, Football, Cross Country, Track and Field, Bowling, Tennis, Volleyball, and Cheerleading. Cheyney University has one of the most storied basketball programs in NCAA Division II history. The men's basketball program is 7th all-time in NCAA win percentage, including 16 PSAC conference championships, four Final Fours, and one National Championship (1978). The women's basketball team in 1982 competed in the championship game of the inaugural NCAA Division I tournament despite being a Division II school.
Notable Alumni: Edward Rudolph "Ed" Bradley Jr - American journalist** Jim Vance - Journalist and News Anchor** Robert Bogle - 1973 - President/CEO of The Philadelphia Tribune, the oldest black newspaper in circulation today** Julian Abele - 1902 - Prominent Architect, Abele designed or contributed to the design of some 250 buildings, including Harvard's Widener Memorial Library, Duke University, The Philadelphia Museum of Art, The Philadelphia Free Library, and many Gilded Age mansions in Newport and New York City** Bayard Rustin - African-American civil rights activist** Craig Welbourn - 1971 - His company owns and operates 28 McDonalds restaurants, making it the largest African American owned/owner of these restaurants in the world and puts him in the top one percent of all McDonalds owners** Dave Warren - 1986 - Talk Radio host and social satirist**
Website: http://www.cheyney.edu/


Latest Trending Interviews
Interviews Featuring "Cheyney University"
Interviews Featuring "Chemistry"