Rose Amazan, Bethune-Cookman University- c/o 2013, Nursing
Name : Rose Amazan
HBCU : Bethune-Cookman University
Graduation Year : 2013
Major : Nursing
Where are you from? Who introduced you to HBCUs?*
I am from Fort Lauderdale, Florida. I was introduced to HBCUs from an early age by my middle school as well as my high school!
Rose Amazan living the life of an accomplished college student
Why did you choose an HBCU over a pwi?*
I chose an HBCU because most of my mentors growing up attended HBCUs and and the choice was very clear when it came down to making a decision.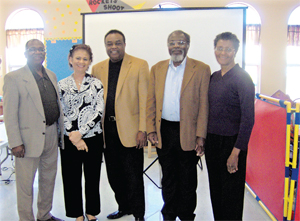 Dr. Irving Robinson (far left) featured in an article in the Daytona Times
What is the story of your "experience" at Your HBCU given its heralded status as a stellar and prestigious institution?*
The story behind my experience is absolutely the best. I would choose to attend an HBCU over and over again if I was given the choice.
"First time" experiences at your HBCU?*
N/A
Who are the professors that have impacted your life in and out of the classroom? How did they do that?*
Man, where do I start!? I have plenty of professors who left lasting impressions on me but two of them stood out the most.

Dr. Robinson was my Anatomy and pathophysiology professor and he was a great science teacher and I would strongly recommend him.
Best restaurants on/near campus? Best dishes?
Anyone who has been to BCU knows about Bethune grills! I always get the 6 piece wings and fries.
Bethune-Cookman University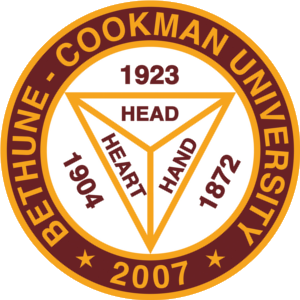 Students: 4,045

Athletics: Bethune–Cookman University is a member of the Mid-Eastern Athletic Conference and participates in NCAA Division I FCS. The school sponsors basketball, bowling, baseball, cross country, football, track and field and volleyball. B–CU has an intense in-state rivalry with FAMU. Today, they meet annually in the Florida Classic, a regular-season, neutral-site game which takes place in Orlando, FL.
Notable Alumni: Marjorie Joyner - 1973 - Inventor of the permanent wave machine** Dr. Evelyn Bethune - 1979 - CEO of the Mary McLeod Bethune Educational Legacy Foundation, Inc and granddaughter of Dr. Mary McLeod Bethune** Henry Lyons - Former President of the National Baptist Convention, USA, Inc.** A. Philip Randolph - 1907 - Civil rights leader; attended the Cookman Institute, before it merged with Daytona Educational and Industrial Training School and became Bethune-Cookman** Gregory Drane - 2002 - Current Director of Athletic Bands at Pennsylvania State University** Yvonne Scarlett-Golden - Educator and activist; the first African American mayor of Daytona Beach, Florida, elected in 2003** James Bush III - 1979 - Current member of the Florida House of Representatives District 109** Ryan Davis - Current NFL player** Kevin Ferguson, aka Kimbo Slice - attended - Street fighter and mixed martial arts fighter** Cy McClairen - 1953 - First Bethune-Cookman alumnus in National Football League who played tight end for five seasons; served as head football coach, head basketball coach, and athletics director at Bethune-Cookman** Eric Weems - 2007 - Current NFL wide receiver**
Website: http://www.cookman.edu/


Latest Trending Interviews
Interviews Featuring "Bethune-Cookman University"
Interviews Featuring "Nursing"