Shan'tell Brown, Alabama State University- c/o 2013, Music
Where are you from? Who introduced you to HBCUs?*
I am from and I live in Fort Lauderdale, Florida. And I first learned of HBCUs in high school.
Why did you choose an HBCU over a pwi?*
Honestly ever since I was very young when my mother had more say in what schools she enrolled me in, she choose predominantly white schools. My mother felt and even to this day she feels that the quality of education offered in white school is more advanced than that of predominantly black schools.
What is the story of your "experience" at Your HBCU given its heralded status as a stellar and prestigious institution?*
N/A
"First time" experiences at your HBCU?*
N/A
Who are the professors that have impacted your life in and out of the classroom? How did they do that?*
The professors I vividly remember are Dr. Joel Jones ( the ASU choir director) and Dr. Pamela Burns ( my voice instructor) There are a few other professors I remember but I had dealings with them the most, so…

Best restaurants on/near campus? Best dishes?
My Freshman year they had this buger resturant in the student Union. Although I honestly forgot the name of the burger resturant because it was closed down not long after I got there and was converted into a McDonalds
College crush?
Oh man Shawn Blackmon. I had a HUGE crush on him for about a month my first semester on campus.

Shawn was all I talked about around my roommate and her friends, and my roommate encouraged me to ask him to go steady with me, and I did. He turned me down. But that was ok.
A month later I met another guy I liked so much more His name was Ed Cutts. I found myself falling in love with Ed. Ed lived in the honor dorms. So in Firday nights I would spend the whole night with him in his room..

Memories.
Alabama State University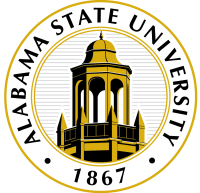 Students: 6,075
Under Graduates: 5,356
Post Graduates: 719
Athletics: The Alabama State University Department of Athletics currently sponsors men's intercollegiate football, baseball, basketball, golf, tennis, track and cheerleading along with women's intercollegiate basketball, soccer, softball, bowling, tennis, track, volleyball, golf and cheerleading. Sports teams participate in NCAA Division I (FCS – Football Championship Subdivision for football) in the Southwestern Athletic Conference (SWAC).
Notable Alumni: 2 Chainz - Artist - (Attended)** Lil Yachty - Artist - (Attended)** Ralph David Abernathy - Civil Rights Leader and Minister - c/o 1950 Tangi Miller - Actress - c/o 1993** London "Deelishis" Charles - Reality Star - (Attended)** Fred Gray - attorney who represented Rosa Parks during the Montgomery Bus Boycott** Eugene Sawyer - politician and businessman, former Mayor of Chicago from 1987–1989
Website: http://www.alasu.edu/


Latest Trending Interviews
Interviews Featuring "Alabama State University"
Interviews Featuring "Music"