Shannon Edgerson, Southern University A & M University- c/o 2013, Economics
Name : Shannon Edgerson
HBCU : Southern University A & M University
Graduation Year : 2013
Major : Economics
Where are you from? Who introduced you to HBCUs?*
I am from Mandeville, Louisiana and I first heard about HBCU's when I was in the 5th grade. My older family members attended HBCU's, so they told me about the experiences they had when they were students. The Bayou Classic was the most talked about event in my family because I have family members who are both Southern and Grambling alumni.
A delicious Double Turkey w/ Cheddar and Bacon from Stamps Super Burgers
Why did you choose an HBCU over a pwi?*
I felt that I would have more support at an HBCU and the whole college atmosphere would be so exciting with the football games and marching bands.
Ashagre Yigletu, Ph.D. Professor of Economics Associate Dean and MBA Director
What is the story of your "experience" at Your HBCU given its heralded status as a stellar and prestigious institution?*
I was happy that the departments where I earned both Bachelor's and Master's degrees at were accredited by its respective boards, so that meant both my Bachelor's and Master's degrees meant something once I graduated.

In addition, also knowing that there were great athletes who played sports at both Southern and Jackson State Universities. Lou Brock (Southern), Rickie Weeks (Southern), Avery Johnson (Southern), Walter Payton (Jackson State), Lindsay Hunter (Jackson State).
"First time" experiences at your HBCU?*
N/A
Who are the professors that have impacted your life in and out of the classroom? How did they do that?*
I would say on the undergraduate level at Southern University and A&M college, it would have been Mr. Marcelle and Dr. Yigletu because they were down to earth and made sure that we were on top of our game when it came down to our coursework.
What sports and/or extra curricular activities did you do in High School? And why?
In High School, I was in the marching band in which I was in the percussion section.

The percussion section enabled me to learn the fundamentals of how to use a drumstick properly as well as learning drum cadences and being able to play them with enthusiasm at pep rallies, football games, and some basketball games.

I also enjoyed learning cadences from Grambling State University even though I still considered it a rival University when I was in high school.
Best restaurants on/near campus? Best dishes?
The cafeteria had decent food and there was always Popeyes, Subway, McDonald's, Wendy's, Burger King and Wingstop (Jackson State).

At Jackson State, there was this place called Stamps burgers that a lot of people went to, but I never got a chance to go there.
College crush?
I had several college crushes, but it turned out the opposite of what I wanted because other dudes were more aggressive than me and actually got the female I wanted or the female already had a boyfriend.

My college crushes during my undergraduate years included: Crystalyn LaGarde, Najee Haney, Meredith Parker, Katecia Jackson, Shadonna Bonner, Crystal Butler and June Williams. During my graduate years, my crushes included: Mahogany Mitchell, Abrianna Brown, Gwendolyne Ballard, Tiffany Murray,Denise Clark and Bianca Cook.
Southern University A & M University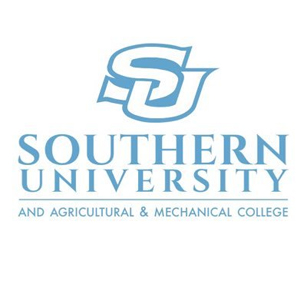 Students: 6,152

Athletics: Southern University A & M University participates in the Southwestern Athletic Conference (SWAC) which is a part of the NCAA Division I. Football participates in the Football Championship Subdivision (formerly Division I-AA). Southern University A & M University offers Baseball, Basketball, Bowling, Cross Country, Football, Track and Field, Soccer, Softball, Tennis, and Volleyball. RIVALS: Jackson State University, Texas Southern University, and Grambling State University.
Notable Alumni: Alfred C. Williams - 1972 - Member of the Louisiana House from Baton Rouge since 2012; former school board member and attorney** Patrick C. Williams - State representative for Caddo Parish since 2007** Marcus Hunter - 2002 - Member of the Louisiana House of Representatives from District 17 in Ouachita Parish** Mike Foster - 2004 (Juris Doctor) - 53rd governor of Louisiana** Melvin "Kip" Holden - 1982;1985 - First African-American mayor of Baton Rouge, Louisiana** Troy E. Brown - Member of the Louisiana State Senate from 2012 until his resignation in 2017** Faith Jenkins - Miss Louisiana 2000, Miss America runner-up 2001, attorney, TV personality, star of Judge Faith** Randy Jackson - 1979 - Musician, record producer, former American Idol judge** Lavell Crump - 1997 - AKA David Banner; music recording artist, producer, actor**
Website: http://www.subr.edu/


Latest Trending Interviews
Interviews Featuring "Southern University A & M University"
Interviews Featuring "Economics"