Shon Clark, Winston-Salem State University- c/o 2013, Mass Communications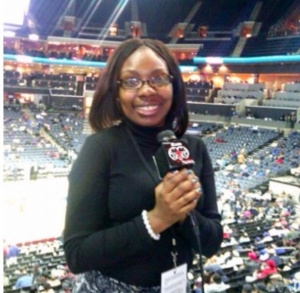 Where are you from? Who introduced you to HBCUs?*
I choose a HBCU over a pwi because of the college experience… Football classics, homecoming , home Style cafe food etc. WSSU is a small HBCU.

I love the environment at WSSU the student professor ratio is small as well I can get that one on one help with a professor.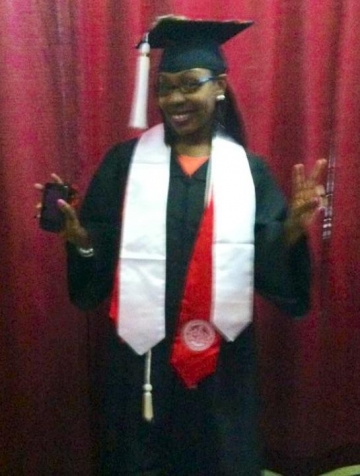 Shon Clark at her graduation ceremony!! | Image Credit: Shon Clark
Why did you choose an HBCU over a pwi?*
I'm from Roanoke Rapids NC (Country girl). My mom always encouraged us to go to college and education is key… She a graduate of Elizabeth City State University

I became a student at WSSU by transferring from ECSU back in 2009… As a transfer student WSSU welcomed me with open arms.
What is the story of your "experience" at Your HBCU given its heralded status as a stellar and prestigious institution?*
Overall my college experience was great … Of course I miss it… That's why I try to come back for homecoming to see family, friends, old professor etc… WSSU motto is " a Enter to learn, Depart to Serve" and that's what I'm doing excited about the next phase of my life.

Also I graduated with honors with a 3.3 Cum Laude.
"First time" experiences at your HBCU?*
N/A
Who are the professors that have impacted your life in and out of the classroom? How did they do that?*
The professors that had the most impression for me was Professor Cole Russing. My major was Mass Communication. He really cares about the students there, he was the best in the department … He wrote me several of letters of recommendation for grad school.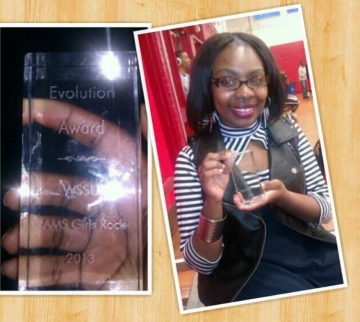 Shon Clark holding her 2013 RAMS Girls Rock Award | Image Credit: Shon Clark
College crush?
I saw a lot eye candy at WSSU lol
Best restaurants on/near campus? Best dishes?
Umm def Bojangles and Burger King McDonald lol fast food … We love Bojangles. We will get them 5 dollars meals lol
What is your major? and Why did you choose it?
My major was Mass Communications I love media … Because it's make me happy my ultimate goal is to have my own production company in the future
Where are the spots to go to if you wanted to cuddle with your boy or girlfriend?
To answers the first question my room lol I'm very private about my relationship or love life lol
What are the chants heard most often at the sporting events?
The chants are "so hard to be a RAM" and "WSSU"
How are you positively active on campus? (e.g. clubs, SGA, etc.)
I was both active in high school and college … I played sports in high school … In college I took a different approach lol I didn't play sports something I kinda regret.
How did you overcome your nervousness about going to college?
Umm I got involved with campus organizations and started doing Community service.
How did your HBCU prepare you for a diverse workplace?
My university prepared me well for the workplace … Back in school WSSU would have career fairs, grad school fairs, etc. Also mock interviews.
What advice would you give high school students filling out college applications for the first time?
The advice I would give high school students don't be nervous about college def get out of your Comfort zone and try a HBCU… Where I'm from …Roanoke rapids nc the kids don't get out and experience culture events
If you could only speak two sentences to the youth coming after you what would you say?
I want to be a role model for these kids and lets them know you can do it… I'm from a small small town and I did it!!!
How did your HBCU help you to transition into your careers workforce?
Well definitely networking and give internship opportunities
Winston-Salem State University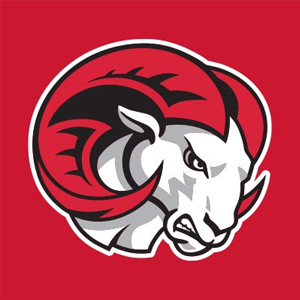 Students: 6,442
Under Graduates: 5,975
Post Graduates: 467
Athletics: Winston-Salem State University is currently a member of the Central Intercollegiate Athletic Association (CIAA) in NCAA Division II. Winston-Salem State University offers Baseball, Basketball, Cheerleading, Cross Country, Football, Softball, Tennis, Track and Field, and Volleyball.
Notable Alumni: Earl "The Pearl" Monroe - Former NBA guard; member of Naismith Memorial Basketball Hall of Fame** Earl "The Twirl" Williams - American-Israeli basketball player** Stephen A. Smith - American ESPN personality, co-star of ESPN First Take** Louis Farrakhan - American religious leader, African-American activist, and social commentator** Louise Smith - Tied for the second woman to race in NASCAR at the top level. She was known as "the first lady of racing** Dennis L.A. White - American stage and screen actor noted for portraying Damion 'D-Roc' Butler in the Notorious B.I.G. biopic entitled Notorious** Yancey Thigpen - Former NFL wide receiver** Maria Howell, Wanda Maria Howell - American actress and singer. She made her film debut in The Color Purple (1985) and appeared in Hidden Figures (2016) as Ms. Sumner** William Hayes - American football defensive end in the National Football League (NFL) Ted Blunt - Retired American elected official, educator and former athlete. Ted served as the former President, City Council of Wilmington, Delaware** Carla Cunningham - American Democratic politician. She is a member of the North Carolina House of Representatives from the 106th District, being first elected in 2012** Harry Lewis - Member of the Pennsylvania House of Representatives, representing the 74th House district in Chester County, Pennsylvania**
Website: http://www.wssu.edu/


Latest Trending Interviews
Interviews Featuring "Winston-Salem State University"
Interviews Featuring "Mass Communications"