Audrey Parks, Alabama State University- c/o 2013, Print Journalism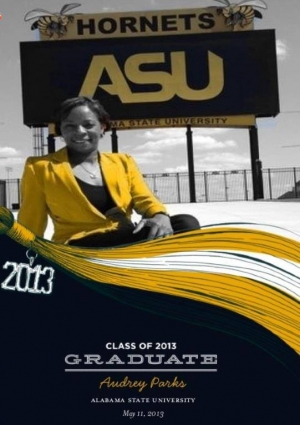 Where are you from? Who introduced you to HBCUs?*
I was born in Montgomery, Ala, but my father's military career had us traveling. I have a father and an Aunt that graduated from ASU, but I truly did not see its importance until I stepped foot on the campus.

Because of that I have made it my life's work to spread the importance of having pride in and attending HBCU. My granddaughter at 1 years old knows all of the ASU chants and can identify the ASU brand anywhere.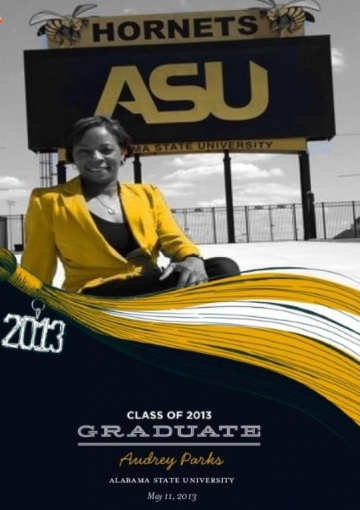 Audrey Parks, Proud Graduate of Alabama State University '13 | Image Credit: Audrey Parks
Why did you choose an HBCU over a pwi?*
Honestly, I chose ASU to not seem like a hypocrite to my daughter who I talked into transferring to from a jr. college.

[How did you decide to become a student at Alabama State University? Feel free to elaborate…]

My decision to attend ASU goes back 22 years. As a military dependent, I could have attended ASU for free after graduating HS, however because of negative things I heard about the school, I always told my dad, "If I have to go to ASU, then I will not go to college." 20 years, a husband and 5 kids later my words rang loudly in my ear.

I did not realize that I had spoken my future with those words until I attended my first class at ASU.

In 2010, after being told for years that my lack of education was a hindrance to me being promoted I decided that the timing was right to go back to school.

After deciding to go back to school I could not go to another school after telling my daughter that ASU was the best choice for her. I had to honor my word and show her what a good school it was by joining.
What is the story of your "experience" at Your HBCU given its heralded status as a stellar and prestigious institution?*
My HBCU story is one of inspiration, passion and enlightenment. I love myASU and everything it stands for. I understand the importance of a quality HBCU experience. I was inspired by the many bright and talented students. I found passion for my people and our important mark on history. I was enlightened by the many contributions of blacks and this great country and the world.
"First time" experiences at your HBCU?*
N/A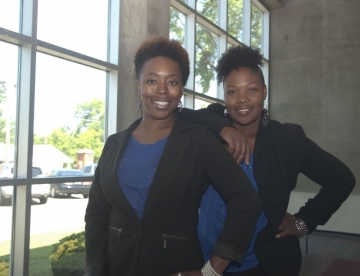 Kamila long (Left) Adjunct Professor Shanessa Sweeney (Right) | Image Credit: Hornet Happenings
Who are the professors that have impacted your life in and out of the classroom? How did they do that?*
My first class at ASU was on a Wednesday afternoon. It was Intr. to Theatre and the instructor was Shanessa Sweeney ("Follow" Professor Sweeney on Twitter). That class was full of 17-19 year old freshman that were loud and rowdy. Prof. Sweeney a young woman herself came floating in class and I thought, "oh Lord what have I gotten myself into." I went home that afternoon and told my family, "I am going to hate this class." Little did I know, that class set my collegiate career up for success.

Prof. Sweeney treated the students as adults and helped me to see each of them the same. I became inspired and hopeful about the future as a result of her teaching style and passion for empowerment!

Prof. Sweeney helped me to see those students for their inner beauty. Her class offered opportunities for students to tell their stories of how they made the journey to ASU and the many obstacles they overcame to get to college. This helps me today to see people despite what their exterior says. I see people, humans and potential in every young person I come in contact with.

Instead of that being the class I dreaded, as I thought it would, it became and still is my favorite class during my time at ASU.
Best restaurants on/near campus? Best dishes?
American Deli which has the best wings in the City!
College crush?
Lol! My college crush was/is my husband Shawn who supported my decision to return to school full-time and not work.
Who invited you to interview with us?
N/A
What is your major? and Why did you choose it?
I majored in Print Journalism and minored in Public Relations.

My major actually chose me. I took the a job assessment survey and scored rather high in communications and public relations. Always knowing that ASU had a great reputation as one of the top Communications programs helped to confirm that path for me.
Where are the spots to go to if you wanted to cuddle with your boy or girlfriend?
Football!

[MH: At the football games?]

Yes, at the football games, but to be honest the students cuddled everywhere!

What are the chants heard most often at the sporting events?
Yea, Yea Yeeeeeeah STATE! A-S-A-S-A-S-U!
How are you positively active on campus? (e.g. clubs, SGA, etc.)
I was a member of the Public Relations Student Society of America (PRSSA) and Public Relations Society of America (PRCA). Active in many seminars and campus functions.
How did you overcome your nervousness about going to college?
I made a decision to not be the typical non-traditional student. I went into the school with an open-mind and closed mouth. I made it a point to listen and respect my instructors and their experiences. I made a conscience decision to listen and not talk and try to prove to the other students how much I knew.
How did your HBCU prepare you for a diverse workplace?
Well, my story is in reverse, I came out of banking and private Christian School so I was bringing my diverse workplace experience to ASU. My time at ASU is helping me to be more confident in the diverse workplace.
What advice would you give high school students filling out college applications for the first time?
Start early and narrow your choices based on what your desired major is.

Research and find scholarship opportunities for the colleges you are considering. Chose a school that is well rounded and one you would not mind becoming active in.
If you could only speak two sentences to the youth coming after you what would you say?
Enjoy the journey of your college experience. Take advantage of every opportunity that you can while you are a student!
How did your HBCU help you to transition into your careers workforce?
Having to complete two internships as part of my graduation requirements gave me the opportunity to build my network and apply my courses to real life situations. This has helped me to be confident and proud to represent myASU.
Alabama State University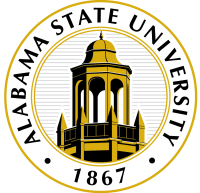 Students: 6,075
Under Graduates: 5,356
Post Graduates: 719
Athletics: The Alabama State University Department of Athletics currently sponsors men's intercollegiate football, baseball, basketball, golf, tennis, track and cheerleading along with women's intercollegiate basketball, soccer, softball, bowling, tennis, track, volleyball, golf and cheerleading. Sports teams participate in NCAA Division I (FCS – Football Championship Subdivision for football) in the Southwestern Athletic Conference (SWAC).
Notable Alumni: 2 Chainz - Artist - (Attended)** Lil Yachty - Artist - (Attended)** Ralph David Abernathy - Civil Rights Leader and Minister - c/o 1950 Tangi Miller - Actress - c/o 1993** London "Deelishis" Charles - Reality Star - (Attended)** Fred Gray - attorney who represented Rosa Parks during the Montgomery Bus Boycott** Eugene Sawyer - politician and businessman, former Mayor of Chicago from 1987–1989
Website: http://www.alasu.edu/


Latest Trending Interviews
Interviews Featuring "Alabama State University"