Senaia S. Harris , West Virginia State University- c/o 2018, Communications with a focus in Public Relations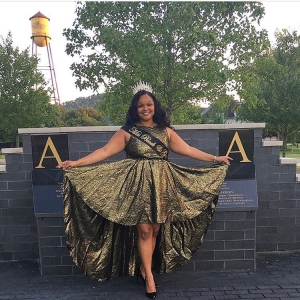 Where are you from? Who introduced you to HBCUs?*
I am from Charleston West Virginia, and I was introduced to HBCUs by my grandparents who raised me.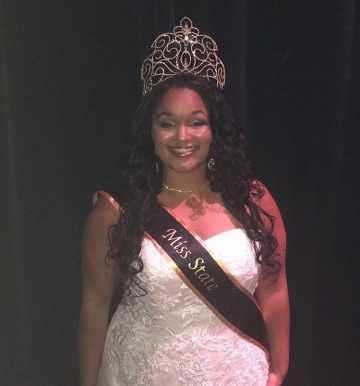 I am Senaia "SiSi" Harris your 2017-2018 Miss West Virginia State University | Photo Credit: Senaia Harris
Why did you choose an HBCU over a pwi?*
With the wisdom and teachings of my grandparents pertaining to my history as an African American, I felt compelled to attend a historically black college/ university.
What is the story of your "experience" at Your HBCU given its heralded status as a stellar and prestigious institution?*
I have been better enabled to make like long connections and to be of service to my community. I've served as Miss Freshman, Sophomore, Junior, and Miss State. I'm also Miss Black and Gold for A Phi A Alpha Zeta Chapter and District of West Virginia.

I'm the former Vice President and president of our school's NAACP chapter, and community service organization NYANSA. I am the president of Alpha Kappa Alpha Sorority Inc. Nu Chapter.

Although they are a predominantly white campus, I feel that by being involved in these organizations and serving as a representative in community work and all other aspects, that I am a continuation of the tradition and valued ideals of Historically Black Colleges and Universities.

By being a dedicated HBCU Student I am an, accurate,walking representation of African American History.
"First time" experiences at your HBCU?*
My first will be in May of 2018 when I am the first of my family to graduate from a historically black college/university!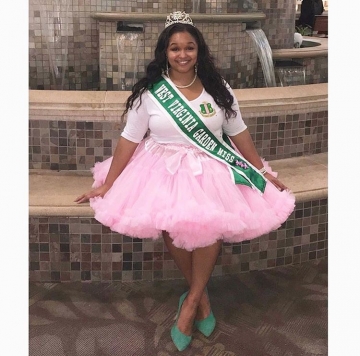 Pretty In Pink, Supreme in Green | Photo Credit: Senaia Harris
Who are the professors that have impacted your life in and out of the classroom? How did they do that?*
Professors like Sharon Banks, Patricia Wilson, Coston Davis, and Trevellya Ford-Ahmed impacted my life by teaching me more than what books could teach me. They have assisted me with my development as a classic African American woman. I thank them for teaching me tradition, and unspoken rules of our culture and community that better refined me as a student and a black woman.
College crush?
My boyfriend Othello Copney
What is your funniest college story? (everyone has one lol)
I often dress up in a quinceanera style ball gown and volunteer to read at local elementary schools. One time, a little boy was so fascinated with my get up, that he tried to crawl under my dress, and his teacher quickly grabbed him by his feet away from me. He said, " oh my gosh, I just wanted to see what was up there". I said, " oh no little man, no you don't". The teacher and her aids got a kick out of that one!
What is your major? and Why did you choose it?
Communications with a focus in Public Relations. I chose this major because of my grandmother. She was the first African American communications representative for a company in our city called Bell Atlantic, that later became Verizon. Seeing her in the role that she carried inspired me to follow the same suit.
What to date has been your proudest moment @ Your HBCU?
Gifting my crown as Alpha Phi Alpha Alpha Zeta Chapter Miss Black and Gold to a little girl who was on a school field trip. She was being bullied by her classmates, and I felt a calling to crown her. Seeing her reaction, and knowing the impact I had in her life meant so much more to me than my tiara. I made her proud of being a smart, black girl. Most of all, I made her proud of being herself. I didn't simply give her a crown, I gave that baby confidence. That is what it means to be an HBCU Queen, an HBCU student, and that is exactly what our historically black colleges/universities are for.
How are you positively active on campus? (e.g. clubs, SGA, etc.)
AKA Great Lakes Regional Undergraduate Cluster Coordinator (2017- Present)
Miss West Virginia State University (2017-Present)
WV Women's Commission Student Ambassador (2017-Present)
West Virginia Garden Miss (2017- Present)
WV District Miss Black and Gold (2017- Present)
Alpha Zeta Chapter Miss Black and Gold (2017)
WV Cluster Leadership Spotlight (October 2017)
AKA 1st Place Bernice I. Sulmin Award – Highest Cumulative G.P.A. (April 2017)
AKA EAF Patricia A. Petty – Wilson Scholar (April 2017)
AKA EAF Racheal Ashburn Mallory Scholar (April 2017)
Alpha Kappa Mu National Honor Society Member (March 2017)
The Society for Collegiate Leadership and Achievement Member (2017)
Alpha Kappa Alpha Sorority Inc. Nu Chapter President (Fall 2016-Present)
WVSU Angels Inspired Inc. (Fall 2016 – Present)
WVSU Academic Appeals Committee (Fall 2016-2017)
WVSU NAACP President (Fall 2016)
WVSU SGA Chief Hearing Examiner (Fall 2016)
WVSU New Student Orientation Leader (Summer 2016)
WVSU Student Leader of the Year (Spring 2016)
Charleston Woman's Improvement League Member (2016)
WVSU NAACP – Vice President (2015-2016)
WVSU Nyansa – President (2015-2016)
WVSU Student Retention Council Member (2015)
WVSU PRSSA Member (2015)
WVSU PRSSA – Secretary (2015)
Dean's List Recipient (2014- Present)
WVSU Class Queen (2014-Present)
Brickstreet Scholar (2014- Present)
Dean's Student Advisory Board (2014)
What situation in your life made you feel like you had arrived into woman/manhood?
I grew up in an abusive household to a drug addicted mother. My grandparents took me in to raise me at 15 years old. My mother had two other children, both boys. From the age of 6 until the age of 15 I was responsible for them as if they were my own. After moving in with my grandparents, my mother continued her wrongful ways. Because of that, my brother Airshaan ran away from home. He ended up dying in a car accident. At that point in my life I was filled with so much anger and rage I did not know how I would move forward. Living through that tragedy and learning to prevail in the face of adversity made me feel like I had arrived into womanhood.
How do you deal with racism when you encounter it?
By dismissal. That is how Mama and Poppy taught me. If someone is passing, and sees two people arguing, they may not be able to determine who is the fool. NEVER let them make a fool out of you!
When and how did you discover your passion in life?
While attending State, I was afforded more opportunities than I had ever been to do volunteer service. Through that work I realized that I wanted to do something in that aspect for the rest of my life. After graduating from State, I'll be going forth to obtain my master's degree in Leadership with a focus in non-profit and government agencies. I want to assist my community through my knowledge of resources and through philanthropy.
What advice would you give high school students filling out college applications for the first time?
Do not wait until the last minute to secure all of your documents and necessary records. Always, Always, ALWAYS Ask for Help!
If you could only speak two sentences to the youth coming after you what would you say?
Jehovah gives us the chance to live one time in this world. Make him proud, and make the absolute most of it.
West Virginia State University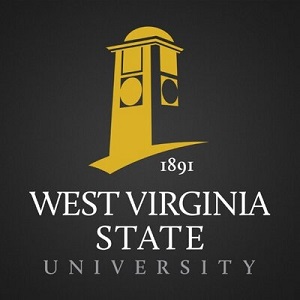 Students: 2,847
Under Graduates: 2,792
Post Graduates: 55
Athletics: Men's football, baseball, basketball, golf, and tennis, and women's basketball, golf, softball, tennis, and volleyball**Member of the Mountain East Conference
Notable Alumni: Carter G. Woodson - African-American historian cited as the father of black history; served as Academic Dean of WVSU from 1920-22**Wendell Smith - noted African American sportswriter who was influential in the choice of Jackie Robinson to become the first African American player in Major League Baseball**Maria Pappas - Cook County Treasurer since 1998. She earned her master's in counseling at West Virginia State University.**Lou Myers - actor and theatrical director, played Vernon Gaines in A Different World**Earl Lloyd -first African-American to play in the NBA**Robert "RJ" Haddy - special effects artist and twice contestant on Syfy's reality game show Face Off**Antoine Fuqua - writer and director of various movies including Training Day, starring Denzel Washington**Katherine Johnson - African-American scientist, who made significant contributions to America's aeronautics and space exploration for NASA**
Website: http://www.wvstateu.edu/


Latest Trending Interviews