Kayla Love, Langston University- c/o 2013, Chemistry

Where are you from? Who introduced you to HBCUs?*
I am originally from Oakland California. A city plagued with gun violence, drugs, and prostitution. But even with that, Oakland is filled with passionate people who are active in improving the community.

In July 2009 I met James Mclemore who recently graduated from Langston University and he taught me about the opportunities that were available at HBCU's. He said that it would not be easy but if you can make it here you can make it anywhere.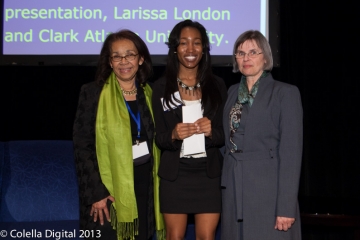 2013 Emerging Researchers National Conference in Washington DC | Image Credit: Kayla Love
Why did you choose an HBCU over a pwi?*
Whether it was a historically black college (HBCU) or a predominately white institution (pwi) I wanted to go somewhere that I would be taken care of. Langston University's Department of Chemistry is a strong supporter of students who wish to exceed at the highest magnitude within the STEM fields. I've participated in internships at pwi's and I often was the only student that was conducting research all year long and required to compete with my research at national levels. Transferring never even crossed my mind. Langston University (LU) was the place for me.

Scholarship - Feel free to elaborate…: In 2009 while working at Macys through a mutual friend I met James Mclemore from Richmond CA. He graduated from Langston and came home to celebrate with his family and asked me if I was in school. I explained to him my financial aid trouble that I was having and he provided me with information I needed to fix my financial aid and suggested that I attend Langston University.
I contacted the school and once accepted I put in a request to transfer my job. I called my dad the following day and told him that within a week I would be leaving to Oklahoma. I got on my first plane and never looked back.
What is the story of your "experience" at Your HBCU given its heralded status as a stellar and prestigious institution?*
Before coming to Langston I set a goal that I will find every scholarship, program and any form of financial assistance there was to help me get through college. I did just that and found a job at Langston's Department of Chemistry.

In addition to my studies I created Royal Aces, an organization that is dedicated to informing students about scholarships and programs on Langston's campus. I started this organization because I understand the struggle of trying to make it with little support. Langston is home to many first generation college students like myself so if I could help in any way I was dedicated to do so.

However, like a typical freshman I had fun and partied hard which resulted in a 2.3 gpa. I was satisfied because all I wanted to do was pass. I then met with my adviser Dr.Coleman who informed me about the Langston Integrated Network Program (LINC) which teaches students the skills they to the need to be successful in graduate school and covers students undergraduate tuition. That was all I needed to hear.

The following spring semester I earned a 3.7 gpa and was accepted into the LINC program. Now that I reached my academic security goal I felt like I was done. A few days before my summer vacation back to Oakland I was offered the opportunity to participate in a summer research opportunity at Langston's Center for Biotechnology research under the Advisement of Dr. Matand.

My first thought was "Oh lord I am going to be stuck at Langston working on peanuts…this is going to be the worst summer ever!" It completely was the opposite; I learned so much about the fascinating field of biotechnology and even came in on the weekends to take care of the Arabidopsis plants that we were growing. To my excitement Dr. Matand offered me a 4 year internship position and played an important role in teaching me that my journey was more than about me but about the people around me and those who would follow.

The many of my friends returned back home after their freshman year but my close friend Mackeya Flenoy and I decided that regardless of who left we were going to graduate. Since then I have been fortunate to compete and win at national levels for my research presentations each year.

Most of all, it was such a great feeling to see so many other minorities competing with the same support from their HBCU's. It was upon returning from my internship at the University of Arkansas that I discovered that one of my research projects at Langston – "Natural Rules for Arabidopsis Thaliana Pre-mRNA Splicing Site Selection" – had been published. This was indeed amazing, a definite highlight in my life! I was especially proud and humbled to accomplish being published as an undergraduate. The harder I worked the more publications I received. Once I set my mind to something I feel like it becomes my purpose.

Graduating from college was a major accomplishment for me and my family and I was committed to funding my education. I've been the recipient of more than 20 scholarships throughout my academic career. Not only did scholarships I earned help me to pay for my undergraduate career, but as a recipient I participated in programs that provided me with skills that I needed to be successful in my field of study.For my last semester I set 3 goals. Win every national/ local research competition, acceptance into Graduate School and receive all A's. I did it.

A memorable moment I presented with my most recent research project and placed 1st in the nation at the Emerging Researchers National Conference in Washington D.C. The title of this research was "The Conductivity of Perchlorate Brines on Mars". The work was completed during my research internship at the University of Arkansas at Fayeteville, AR. I stayed up all night thinking of questions that the judges might ask and practicing my presentation with my advisor.
On presentation day I saw that the judges were not cutting any slack. They called my name next and I was calm and ready. After my presentation the judge smiled and asked "What graduate school are you going to?".

This was a very humbling moment. Before coming to college I did not even know what graduate school was; so for someone to have that expectation based upon a presentation made me feel like I have no choice but to keep pushing forward and become somebody. At graduation I was the first student in the history of Langston University to receive the "Best of the Best" award for my accomplishments. At that moment I truly knew that my HBCU believed in me.

I've recently accepted the University of Oklahoma's Department of Chemistry and to top it off I received a NSF OK LSAMP Bridge to Doctorate Fellowship to help fund my education. I've learned that it doesn't matter where you come from its all about your ability to push through the hard times and get to where you need to be. I have my struggles and I expect more obstacles to come but I know I am right around the corner from success.
"First time" experiences at your HBCU?*
N/A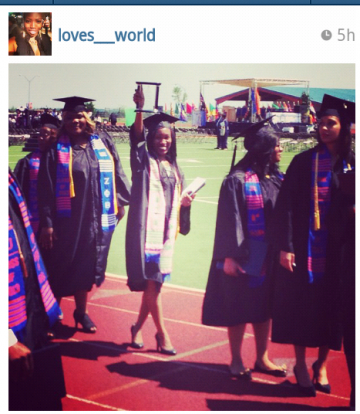 Kayla celebrating her graduation after years of fun and hard work | Image Credit: Kayla Love
Who are the professors that have impacted your life in and out of the classroom? How did they do that?*
Dr. Matand, Dr.Coleman, Ms. Williams, and Dr. Lewis each impacted my life.I used to think that their expectations were too high and that they were inconsiderate of my academic obligations. They ultimately taught me that college is about learning to balance it all. The pressure is what made me work harder than I ever could of imagined.
Best restaurants on/near campus? Best dishes?
WOW's was the best restaurant it was a good place to run into friends and I enjoyed their chicken tenders when I was on the go.
College crush?
Ha! I'll keep that to myself. He knows who he is. He is from Houston and will soon become a pilot.
What is your major? and Why did you choose it?
My major was Chemistry. I choose it because I was not strong in the field of science in high school. I wanted to challenge myself to exceed in a field that would allow me to impact the world.
What are the chants heard most often at the sporting events?
We are the lions! We don't take no mess!
How are you positively active on campus? (e.g. clubs, SGA, etc.)
I was the founder of Royal Aces Student Support program, a tutor, and I participated in many community service projects.
How did you overcome your nervousness about going to college?
I was nervous as can be but I told myself that I was not returning home without a degree so I had no choice but to overcome the fear of failing.
How did your HBCU prepare you for a diverse workplace?
Langston taught me that we all come from different places but we share one common goal and that is to succeed. Langston taught me that the best way to communicate my ideas is to understand the people around me first in order to find a common ground.
What advice would you give high school students filling out college applications for the first time?
Make sure you are applying to an institution that makes you feel welcome and is dedicated to your success as much as you are.
If you could only speak two sentences to the youth coming after you what would you say?
It doesn't matter where you come from. At this moment you have to make the decision to achieve greatness against any opposing force.
How did your HBCU help you to transition into your careers workforce?
I will attend the University of Oklahoma in the fall and Langston has prepared me well. Langston taught me that when it gets tough and people tell you their is no hope you have to find a solution that will ultimately bring you closer to your goals. I am ready now more than ever and I thank Langston University for that.
Langston University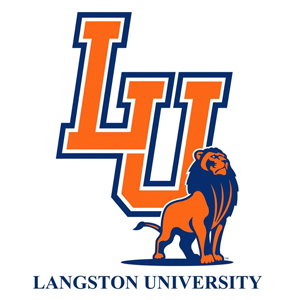 Students: 2,554

Athletics: Langston University are part of the National Association of Intercollegiate Athletics (NAIA), primarily competing in the Red River Athletic Conference (RRAC), while its football team competes in the Central States Football League (CSFL). Men's sports include basketball, cross country, football and track & field; while women's sports include basketball, cheerleading, cross country, softball, track & field and volleyball.
Notable Alumni: Bessie Coleman - The first African American woman pilot and the first American woman to obtain an International Pilot's license. Coleman enrolled in 1910, but could only complete one term due to financial issues** Brendan Crawford - 2013 - Football quarterback** Jennifer Hudson - Attended - 2000 - Professional singer, actress** Clara Luper - 1944 - Civil rights leader best known for her leadership role in the 1958 Oklahoma City Sit-in Movement** Nancy Riley - Former member of the Oklahoma Senate from the 37th district** Nathan Hare - Founding publisher of The Black Scholar (1969-1975) and author of The Black Anglo Saxons. Also wrote the conceptual proposal for the first department of black studies, and was the first person hired to coordinate a black studies program in the United States (1968)** Ada Lois Sipuel Fisher - 1945 - Civil rights activist; stood at the forefront of the fight to integrate historically white law schools in the South** The Delta Rhythm Boys - Jazz vocal group inducted into the Vocal Group Hall of Fame**
Website: http://www.langston.edu/


Latest Trending Interviews
Interviews Featuring "Langston University"
Interviews Featuring "Chemistry"