Shanaee Bodrick, Virginia State University- c/o 2011, History & Philosophy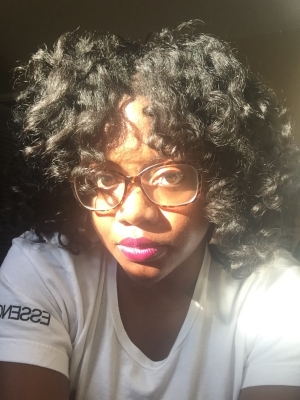 Where are you from? Who introduced you to HBCUs?*
I was born and raised in Charlotte, NC. I come from a family full of HBCU graduates. My father and 7 of his siblings graduated from Johnson C. Smith University.

In turn their children have gone on to graduate from FAMU, Howard, Hampton, Meharry, Virginia State, Winston Salem State, South Carolina State, Claflin, Morehouse.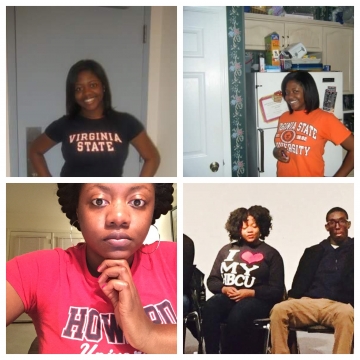 It was at VSU where I met my extended family. VSU Prepared me for graduate school at Howard. Both VSU and HowardU spearheaded my purpose to pursue history and philanthropy.
Why did you choose an HBCU over a pwi?*
I grew up on an HBCU campus. I was constantly surrounded by HBCU graduates. To reinforce my decision, I participated in a program called Campus Connections BCT where 3 bus loads of high school students tour HBCUs every weekend with 2 week long tours.

I have pretty much seen 75% recognized HBCUs by way of this program. It was always a definite decision. PWIs did not interest me.
What is the story of your "experience" at Your HBCU given its heralded status as a stellar and prestigious institution?*
My experience was an impactful one. It's where I fell in love with my profession and learned to not take everything so seriously. I was afforded many opportunities on and off campus.
"First time" experiences at your HBCU?*
Hmmm, my first time going to a club, driving long distance, sharing a bathroom with girls. I am the only girl of 3 boys. Can't forget my first love and heartbreak.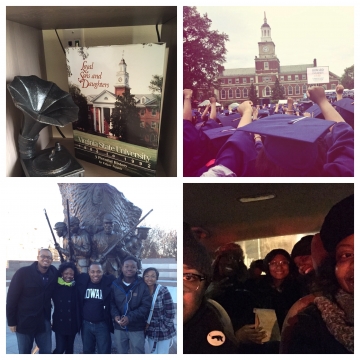 Now as I wrap up my PhD at a majority institution, feeling far away from home (my HBCUs)..I'll always remember the good times. I think I'm overdue for brunch with some fellow alum :-)
Who are the professors that have impacted your life in and out of the classroom? How did they do that?*
Oh there are so many. Dr. Abraham, Dr. Alkebulan, Dr. Amino, Dr. Hogan, and my advisor the late Dr. Caldwell. All of these professors taught me history and philosophy but through standard textbooks. I read and touched solve journals, watched endless documentaries, connected contemporary methods to that of the past. Outside of the classroom they taught me how to network and maneuver. They always explained why I should do certain things instead of demanding I should.
What is your major? and Why did you choose it?
I've always had a love for history and left it open as an option. I entered as a marketing major. My first week was overwhelming. My schedule was very random as the school of business was very packed. Somehow I ended up in a Business Ethics class with Dr. Caldwell for upperclassmen.

As the only freshman, I was concerned about my performance. However, I passed the class with an A. I enjoyed it so much so, I asked the professor what he was teaching next semester. Turns out he was in the history and philosophy department. That's when I knew I needed to change my major. It was Dr. Caldwell's first year and he wasn't allowed to have any advisees.

After explaining to the chair, Dr. Abraham that I'm changing my major because of Dr. Caldwell, Dr. Abraham granted him permission to let me be his first advisee. He was my advisor all four years. In this department I ended up working in the archives, which is how I started my path down historic preservation.

Eventually attending Howard University where I earned my Master of Arts in Public History.
What to date has been your proudest moment @ Your HBCU?
My proudest moment was at Howard University. Valentines Day 2012, I coordinated a program with some colleagues honoring Dr. Darius L. Swann and wife Mrs. Vera Swann of the landmark Supreme Court case Swann v. Charlotte Mecklenburg Board of Education.

My advisor Dr. Elizabeth Clark-Lewis, who worked closely with Mrs. Vera Swann saw fit to let me coordinate the event because of my roots in Charlotte. They were graduates of Johnson C. Smith which is my initial HBCU campus crush. I drove living legends in my car, had breakfast with them (where they asked me why I didn't attend Smith. Turns out tuition was under $1,000 when they were students).

It was amazing.
Virginia State University
Students: 6,000

Athletics: Virginia State University is in the NCAA Division II and compete as members of the Central Intercollegiate Athletic Association. Virginia State University offers Baseball, Basketball, Bowling, Cross Country, Football, Softball, Golf, Tennis, Track and Field, and Volleyball.
Notable Alumni: Deshauna Barber - 2011 - Miss USA 2016, Top 9 in Miss Universe 2016** Gaye Adegbalola - 1978 - Blues singer and civil rights activist** James Avery - Actor** Rovenia M. Brock - Nutritionist, lecturer, health reporter, entrepreneur, and author** Das EFX - Attended - Rap group** Wale Folarin - DC Rapper (transferred to Bowie State University)** Aaron Hall - Attended - Member of the Music Group Guy** Damion Hall - Attended - Member of the Music Group Guy** Reginald Lewis - Businessman; owner of TLC Beatrice International** Héctor Martínez Muñoz - First member of the Supreme Court of Puerto Rico** Pamela E. Bridgewater - Former U.S. Ambassador to Ghana and current U.S. ambassador to Jamaica**
Website: http://www.vsu.edu/


Latest Trending Interviews
Interviews Featuring "Virginia State University"
Interviews Featuring "History & Philosophy"