Brittany Bowers, Hampton University- c/o 2016, Accounting
Where are you from? Who introduced you to HBCUs?*
From Piscataway, New Jersey; HBCUs were first introduced to me by my family. They spoke of relatives that had attended a few & the experiences & history they gained from them.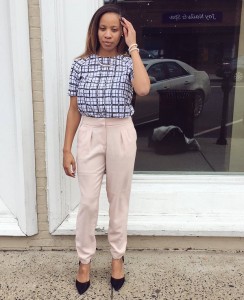 HamptonU Alum, Brittany Bowers looking beautiful and radiant
Why did you choose an HBCU over a pwi?*
I live minutes away from Rutgers, I wanted the opportunity to get away from an area I already knew & take the opportunity to learn about myself & my people. I didn't want to be just a "number" at a pwi. I wanted to know my classmates, my professors, my dean of the school, & I got just that.
What is the story of your "experience" at Your HBCU given its heralded status as a stellar and prestigious institution?*
Sometimes it's hard to believe that I graduated from such a prestigious school such as Hampton. I am the first grand & great grandchild to graduate from a 4-Year school as well as hold a graduate degree. I take pride in that. I had the opportunity to meet lifelong friends, travel & participate in a sport that I love (Cheerleading), learn so much about myself while gaining an invaluable education. We call Hampton our "Home by the Sea" & it's really just
"First time" experiences at your HBCU?*
N/A
Who are the professors that have impacted your life in and out of the classroom? How did they do that?*
I owe that to all of my professors. Dean Credle has created a phenomenal program & all of the professors, Dr. Hayes, Dr. Beale, Dr. Sharad, Dr. McLain, Dr. Coronel, & professor Maghear have helped implement those key values. They have allowed us to create relationships with them where we can ask any questions & receive adequate answers. I can describe how they do it specifically, but just know they do it well!
Hampton University
Students: 4,646
Under Graduates: 3,836
Post Graduates: 810
Athletics: Hampton University competes in the NCAA Division I Football Championship Subdivision (FCS) and are members of the Mid-Eastern Athletic Conference. Hampton University offers Basketball, Cross Country, Bowling, Golf, Football, Softball, Tennis, Track and Field, Lacrosse, Volleyball, Soccer, and Sailing.**In 2016, Hampton became the first and only HBCU to field a Division I men's lacrosse team. ESPN held a broadcast on campus preceding the inaugural game in Armstrong Stadium.**Hampton is the only HBCU with a competitive sailing team. RIVALS: Norfolk State University, Howard University.
Notable Alumni: Alberta Williams King - 1924 - Mother of Martin Luther King Jr.** Robert S. Abbott - 1896 - Founder of The Chicago Defender** Percy Creuzot - 1949 - Founder of Frenchy's Chicken in Houston, Texas** Charles Phillips - 1986 - CEO of Infor; former President of Oracle Corporation** Booker T. Washington - 1875 - Founded Tuskegee University in Alabama** John T. Biggers - Harlem Renaissance muralist and founder of the Art Department at Texas Southern University** Leslie Garland Bolling - 1918 - Early 20th-century wood carver** Spencer Christian - Former weatherman for Good Morning America, 1986–1998** DJ Envy 1999 disc jockey and host of The Breakfast Club** Brandon Fobbs - 2002 - Actor; best known for his role in the film Pride** Kevin Frazier - Sports anchor and entertainment news anchor** Beverly Gooden - 2005 - Writer** Biff Henderson - Stage manager and personality on the Late Show with David Letterman** DJ Tay James - 2009 - Disc jockey for Justin Bieber** Dorothy Maynor - Concert singer** Wanda Sykes - 1986 - Comedian** A. S. (Doc) Young - 1941 - Sports journalist** Vanessa D. Gilmore - Federal Judge of the United States District Court for the Southern District of Texas** Charles Wesley Turnbull - 1958 - Former governor of the U.S. Virgin Islands** Douglas Palmer - 1973 - Mayor of Trenton, New Jersey** Ivory Lee Young Jr. - 1986 - City Councilmember with the Atlanta City Council District 3, Atlanta, Georgia 2002–2018** Stephanie Young - 2006 - Director of African American Outreach, Associate Director of Communications, The White House** Mary Jackson - 1942 - Pioneering African-American engineer for NASA** Susan La Flesche Picotte - 1886 - First Native American physician** Elisabeth Omilami - Chief Executive Officer of Hosea Feed the Hungry and Homeless** Mychal Denzel Smith - 2008 - Writer at The Nation, television commentator and author** Clara Byrd Baker - Educator, civic leader, and suffragette** Chris Baker - 2008 - Current NFL defensive tackle** Justin Durant - 2007 - Current NFL linebacker, Jacksonville Jaguars, Detroit Lions** Kenrick Ellis - Current NFL defensive tackle, New York Jets** Francena McCorory - 2010 - Track and field, NCAA 400m three-time champion** Kellie Wells - Track and field Olympic athlete; 100m hurdle bronze medalist, 2012**
Website: http://www.hamptonu.edu/


Latest Trending Interviews
Interviews Featuring "Hampton University"
Interviews Featuring "Accounting"