Elleni Almandrez, Howard University- c/o 2010, Journalism/Public Relations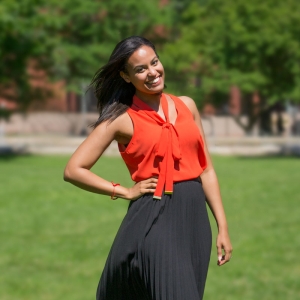 Where are you from? Who introduced you to HBCUs?*
Silver Spring, MD; My dad worked at Howard University Hospital so I grew up knowing that I would attend Howard one day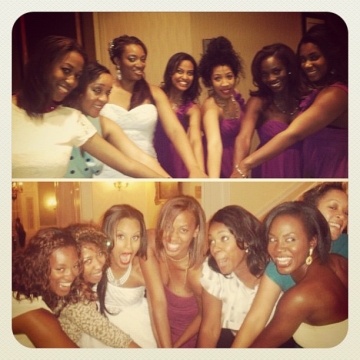 During her time at Howard, Elleni made life long friends. They cherished their time at Howard and to this day are together during the pinnacle moments of their lives.
Why did you choose an HBCU over a pwi?*
I attended a diverse high school, but I still felt like I wasn't gaining enough knowledge in African American history and culture. Learning about African American history started and ended with slavery from outdated textbooks.
What is the story of your "experience" at Your HBCU given its heralded status as a stellar and prestigious institution?*
My years at Howard were filled with outstanding rewards and amazing challenges and opportunities. It was exciting, life-changing, and everlasting.
"First time" experiences at your HBCU?*
First road trip with my best friends. We took the MegaBus from Union Station to Penn Station. What was scheduled to be a 4-hour ride turned into 7 hours. We partied, we ate great food, shared a lot of great laughs and memories. We talk about that trip to this very day.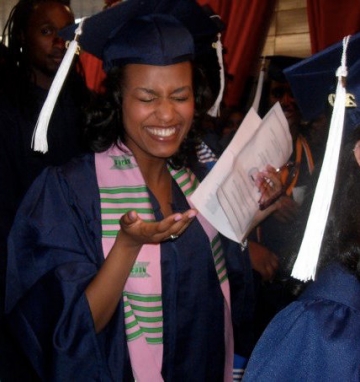 Graduation Day
Who are the professors that have impacted your life in and out of the classroom? How did they do that?*
Professor Quito Swan: He was one of the first professor's I had during my first semester at Howard. His lectures were so interesting and definitely eye-opening.

Professor Keith Alexander: He is well respected in the field of journalism. His class was challenging and exciting at the same time and he pushed me to be a better writer.

Professor Peggy Lewis: I loved attending her class. I learned so much about journalism and the drive it takes to be a great storyteller. I still use her helpful techniques in my professional life.
College crush?
My boyfriend at the time, who is now my husband. 
What is your funniest college story? (everyone has one lol)
My friends and I bought a table at a nightclub in NYC. We were enjoying our time and befriended another group and invited them over to party with us. They stole my friend's wallet and bought a tank of gas with her credit card.
What is your major? and Why did you choose it?
Journalism/Public Relations. I wanted to use the power of media to help uplift the voices of the people who contribute to improving our society.   
What to date has been your proudest moment @ Your HBCU?
Becoming a member of Alpha Chapter, Alpha Kappa Alpha Sorority Incorporated. Two words: Life Changing. 
How are you positively active on campus? (e.g. clubs, SGA, etc.)
In undergrad I was a member of Alpha Chapter, Alpha Kappa Alpha Sorority Incorporated; a member of Entertainment Power Players, DMV Club, 25 Magazine and more. 
What situation in your life made you feel like you had arrived into woman/manhood?
Its never been one situation. I think its a compilation of different moments. 
How do you deal with racism when you encounter it?
I address it face on. I call them out on their bigotry and ignorance. If they feel so inclined to share their racist thoughts, then they deserve to feel uncomfortable to hear another person combat them and tell them they are in the wrong. 
When and how did you discover your passion in life?
I discovered my passion my freshman year. I didn't know if I wanted to major in music management or event planning. My counselor sat me down and shared different options with me. She said that PR can open so many different doors and it might be worth checking it out. After doing some research and sending many prayers I learned that this was the path for me. 
If you could only speak two sentences to the youth coming after you what would you say?
Soak up as much knowledge as you can during your undergrad years and really enjoy the experience. Join as many clubs as you can, meet new people outside of your inner circle and don't be afraid to take risks. 
What advice would you give to other high school students thinking about their future?
Join an extracurricular activity. Take a tour of all the colleges on your wish list. Submit early applications. Pray. Lastly, attend freshman orientation at Howard. 
Howard University
Students: 10,300

Athletics: Howard University competes in the NCAA's Division I Football Championship Subdivision (FCS) and are members of the Mid-Eastern Athletic Conference. Howard University offers Basketball, Cross Country, Bowling, Football, Soccer, Lacrosse, Swimming and Diving, Tennis, Softball, Track and Field, and Volleyball.
Notable Alumni: Andre Johnson - Actor on TV show Black-ish** Queen Latifah - Actress, was on the hit TV show "Living Single"** Erika Alexander - Actress, was on the hit TV show "Living Single"** Chadwick Boseman, actor** Taraji P. Henson - Oscar and Emmy-Nominated and Golden Globe Winning Actress** Elijah Cummings - United States Representative** Thurgood Marshall - United States Supreme Court Justice** Toni Morrison - Pulitzer Prize and Nobel Prize–winning novelist** Stan Verrett, anchor on the ESPN and ESPNEWS networks in the United States** Tom Joyner Morning Show producer Nikki Woods** United States Ambassador Andrew Young** Mayor of Atlanta, Georgia Kasim Reed** Actress Wendy Raquel Robinson** Book artist Clarissa Sligh** Shauntay Hinton, beauty pageant winner** Gus Johnson, sports broadcaster** Attorney Vernon Jordan** Television personality Ananda Lewis** Former Mayor of the District of Columbia Adrian Fenty** Actor Lance Gross** Kamala Harris, first African-American, and first Asian-American female Attorney General & US Senator from California** Television journalist Lori Stokes** Actor Ossie Davis** Former Malian prime minister and NASA engineer Cheick Modibo Diarra** David Dinkins, the first African-American mayor of New York City** Emmy Award nominated actor and star of the TV Show Black-ish Anthony Anderson** The first Nigerian president Nnamdi Azikiwe** Mayor of Newark, New Jersey Ras J. Baraka** NFL player Antoine Bethea** Civil rights leader Stokely Carmichael** Music Mogul, Sean Combs** Ben Ali, co-founder and owner of Ben's Chili Bowl, the famous restaurant in Washington, D.C.** Choreographer, actress, Producer of "A Different World" and singer Debbie Allen**
Website: http://www.howard.edu/


Latest Trending Interviews
Interviews Featuring "Howard University"