Jerrica Oliver, Howard University- c/o 2011, Psychology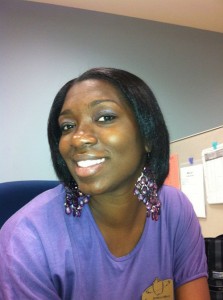 Name : Jerrica Oliver
HBCU : Howard University
Graduation Year : 2011
Major : Psychology
Where are you from? Who introduced you to HBCUs?*
My mother always told me in order to be the best you must surround yourself with great people, So I choose a school that stands on a very strong legacy! Howard University is the first HBCU and remains to educate some of the best African Americans while staying true to our history.
Why did you choose an HBCU over a pwi?*
N/A
What is the story of your "experience" at Your HBCU given its heralded status as a stellar and prestigious institution?*
Howard is located in the Nations Capital and I happen to be in the District of Columbia when the First Black President was elected. The feeling on Campus was one of accomplishment and drive. At that moment most Howard students understood why they choose an HBCU and what they had to do for our community.
"First time" experiences at your HBCU?*
N/A
Who are the professors that have impacted your life in and out of the classroom? How did they do that?*
Dr. Jules Harrell, my intro to psychology professor. He became my advisor ensuring that I receive the best college experience while maintain great academic status. To this day he fills me with encouraging words to make sure I continue my education until I become Dr. Jerrica Oliver.
Best restaurants on/near campus? Best dishes?
Ho Chi – 3 wings and fries with Mumbo Sauce on everything Ohhs & Ahhs– Fried chicken rice and macaroni and cheese
College crush?
I still have a crush on him lol! He was a west coast psychology major, philosophy minor Wide receiver.
Howard University
Students: 10,300

Athletics: Howard University competes in the NCAA's Division I Football Championship Subdivision (FCS) and are members of the Mid-Eastern Athletic Conference. Howard University offers Basketball, Cross Country, Bowling, Football, Soccer, Lacrosse, Swimming and Diving, Tennis, Softball, Track and Field, and Volleyball.
Notable Alumni: Andre Johnson - Actor on TV show Black-ish** Queen Latifah - Actress, was on the hit TV show "Living Single"** Erika Alexander - Actress, was on the hit TV show "Living Single"** Chadwick Boseman, actor** Taraji P. Henson - Oscar and Emmy-Nominated and Golden Globe Winning Actress** Elijah Cummings - United States Representative** Thurgood Marshall - United States Supreme Court Justice** Toni Morrison - Pulitzer Prize and Nobel Prize–winning novelist** Stan Verrett, anchor on the ESPN and ESPNEWS networks in the United States** Tom Joyner Morning Show producer Nikki Woods** United States Ambassador Andrew Young** Mayor of Atlanta, Georgia Kasim Reed** Actress Wendy Raquel Robinson** Book artist Clarissa Sligh** Shauntay Hinton, beauty pageant winner** Gus Johnson, sports broadcaster** Attorney Vernon Jordan** Television personality Ananda Lewis** Former Mayor of the District of Columbia Adrian Fenty** Actor Lance Gross** Kamala Harris, first African-American, and first Asian-American female Attorney General & US Senator from California** Television journalist Lori Stokes** Actor Ossie Davis** Former Malian prime minister and NASA engineer Cheick Modibo Diarra** David Dinkins, the first African-American mayor of New York City** Emmy Award nominated actor and star of the TV Show Black-ish Anthony Anderson** The first Nigerian president Nnamdi Azikiwe** Mayor of Newark, New Jersey Ras J. Baraka** NFL player Antoine Bethea** Civil rights leader Stokely Carmichael** Music Mogul, Sean Combs** Ben Ali, co-founder and owner of Ben's Chili Bowl, the famous restaurant in Washington, D.C.** Choreographer, actress, Producer of "A Different World" and singer Debbie Allen**
Website: http://www.howard.edu/


Latest Trending Interviews
Interviews Featuring "Howard University"
Interviews Featuring "Psychology"