Jeremy Garner, Morehouse College- c/o 2014, Biology & Pre-Medicine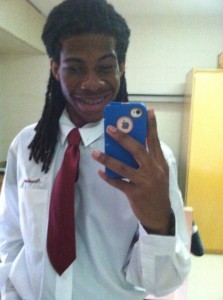 Name : Jeremy Garner
HBCU : Morehouse College
Graduation Year : 2014
Major : Biology & Pre-Medicine
Where are you from? Who introduced you to HBCUs?*
I am from Houston, Texas but Hattiesburg, Mississippi will forever be my home. I was introduced to HBCUs by my grandmother and mother, when I was younger they would tell me about their experiences.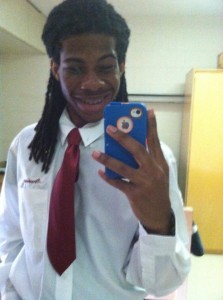 Proud Morehouse Man Jeremy Garner of Morehouse College (Class of 2017)
Why did you choose an HBCU over a pwi?*
I wanted to learn more about my ancestors history and more about my culture. I also want to know how African Americans leaders became so great from the schools that they went to.
What is the story of your "experience" at Your HBCU given its heralded status as a stellar and prestigious institution?*
My HBCU experience is better than what I expected it to be. I have already started making my lifetime bonds with my fellow brothers of Mother Morehouse and I am glad that I applied to this institution and I wouldn't have it any other way.
"First time" experiences at your HBCU?*
N/A
Who are the professors that have impacted your life in and out of the classroom? How did they do that?*
All my professors are leaving impressions and lessons on me. They are showing me how the outside world works and that hard work and determination will help you get a long way in life.
Morehouse College
Students: 2,193

Athletics: Morehouse College is affiliated with the Southern Intercollegiate Athletic Conference (SIAC). Morehouse College competes in football, baseball, basketball, cross country, tennis, track & field and golf.
Notable Alumni: Martin Luther King Jr. - 1948 - Leader of the Civil Rights Movement and Nobel Peace Prize Laureate** Nathaniel H. Bronner, Sr. - 1940 - Founder and former CEO, Bronner Bros., which is also the publisher of Upscale Magazine** Emmett Carson - 1981 - CEO and President, Silicon Valley Community Foundation** James W. Compton - 1961 - Board of Directors, Ariel Investments, Inc.; retired President and CEO, Chicago Urban League** Reginald E. Davis - 1984 - President, RBC Bank, former Senior Executive, Wachovia; named one the "75 Most Powerful African-Americans in Corporate America" by Black Enterprise magazine** Kent Matlock - 1986 - CEO of Matlock Advertising & Public Relations** John W. Mims - 1982 - Sr. Vice President Starwood Hotels & Resorts Worldwide** Babatunde Olatunji - 1954 - Grammy Award-winning Nigerian drummer, social activist and recording artist; Drums of Passion** Shakir Stewart - 1996 - Senior Vice President of Island Def Jam Music Group, Executive Vice President of Def Jam** PJ Morton - Maroon 5 keyboardist** Keith "Guru" Elam - 1983 - Rapper, founder of Gang Starr** Samuel L. Jackson - 1972 - Actor** Kevin A. Ross - 1985 - Host/producer of daytime syndication legal show America's Court with Judge Ross** Stu James - 1989 - Broadway and television actor; Color Purple, Dreamgirls, All My Children, General Hospital** Erik King - 1985 - Actor, Dexter** Spike Lee - 1979 - Film director and producer** Fonzworth Bentley - 1997 - Media personality** Rockmond Dunbar - Actor, Soul Food, Girlfriends** Brian Tyree Henry - 2004 - Actor, Atlanta (TV series)** Seith Mann - 1995 - Television director: The Wire, Grey's Anatomy; winner of the NAACP Image Award** Bill G. Nunn III - 1976 - Actor, School Daze, Mo Better Blues, New Jack City** Nate Bennett-Fleming - 2007 - Shadow U.S. Representative for the District of Columbia** Julian Bond - 1971 - Civil rights leader, former Georgia state representative and Chairman of the NAACP** Chuck Burris - 1971 - First Black mayor of Stone Mountain, Georgia** Maynard Jackson - 1956 - First Black mayor of Atlanta, Georgia; Jackson served three terms as Mayor; founder and CEO of Jackson Securities Inc.; National Development Chair, Democratic National Committee** Ed McIntyre - 1956 - First African-American mayor of Augusta, Georgia** Alvin Parks, Jr. - 1983 - Mayor, East St. Louis, Illinois (2007-present)** James O. Webb - 1953 - Mayor Glencoe, Illinois; established the first HMO in Illinois and served as Chair, President and CEO of the Dental Network of America (of the Health Care Service Corporation)** Clinton I. Young - 1972 - Mayor, Mt. Vernon, New York (2008-present)** Michael D. Johnson - 1990 - Judge, Superior Court, Fulton Co., Georgia** Geoff Bennett - 2002 - Washington reporter, Time Warner Cable News / NY1** Panama Jackson - 2001 - Co-founder of the award-winning VerySmartBrothas.com, author, freelance writer, and media personality** Robert E. Johnson - 1948 - Former Executive Editor and Associate Publisher, Jet Magazine** Jamal Simmons - 1993 - Political correspondent for CNN** Miles Marshall Lewis - 1993 - Pop culture critic, essayist, and author** Shaun King (activist) - 2002 - Civil rights activist, entrepreneur and senior justice writer for the New York Daily News** John David Washington - 2006 - RB, St. Louis Rams 2006, all-time leading rusher at Morehouse; RB in the UFL; son of Oscar Award-winning actor Denzel Washington** Jerome Boger - Referee and umpire in the NFL (National Football League); former quarterback for the Morehouse Tigers football team** Dexter King - Son of Martin Luther King Jr.** Ennis Cosby - 1992 - Son of comedian Bill Cosby**
Website: http://morehouse.edu/


Latest Trending Interviews
Interviews Featuring "Morehouse College"
Interviews Featuring "Biology & Pre-Medicine"