Breonna Ward, Grambling State University- c/o 2017, Education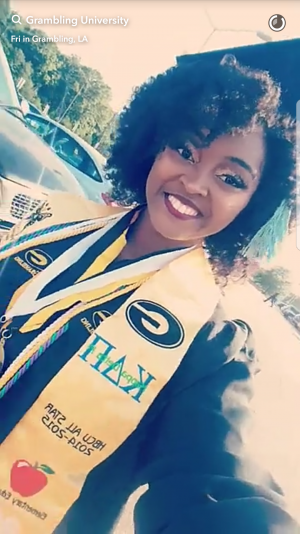 Where are you from? Who introduced you to HBCUs?*
I have been living in Dallas for almost 10 years, but I'm a military brat. My dad was in the Air Force, my family and I have lived and traveled all over the world.

Both of my parents are Grambling Alumni, so I grew up with some knowledge of HBCUs. Grambling State University is the reason why my family was blessed with so many amazing opportunities.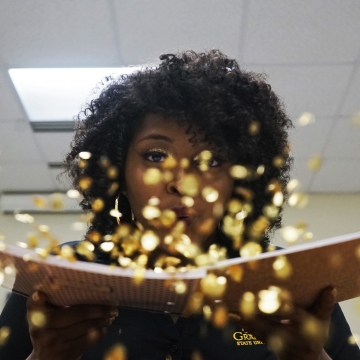 "My proudest moment at my HBCU is when I graduated with honors."
Why did you choose an HBCU over a pwi?*
When I was was in highschool I was accepted to 15 colleges and universities, I was even offered a full ride.

However, as I began visiting the different universities I didn't feel like I was truly welcomed. I didn't feel like I was in a place where my presence was valued, so I kept searching.

Eventually I scheduled a visit to Grambling (even though I had been there plenty of times) and everything just felt right. The students were very welcoming, the staff I was able to meet were very helpful, and the ambassador that escorted me around campus was very friendly. The moment I stepped on the campus that day I knew that Grambling State University was the university for me.
What is the story of your "experience" at Your HBCU given its heralded status as a stellar and prestigious institution?*
My experience at Grambling State University was amazing. I was blessed with so many opportunities that I truely believe no other school would've been able to give me. Grambling taught me skills that will help me advance not only in my career, but in life. Anyone who has attended Grambling will tell you "if you can make it at Grambling, you can make it anywhere in life", and I am a living testament of that statement.

While at Grambling I was able to join organizations such as The Society Of Distinguished Black Women, Inc., Student Government Association (where I served as Freshman Class Secretary, Sophomore Class Vice President, and Executive Secretary/Treasurer of the organization), I was in the first class of HBCU All Stars, I was chosen as a Who's Who Among Students at Colleges and Universities twice, I joined Sigma Alpha Pi (The National Society of Leadership and Success), Kappa Delta Pi, I was a GSU student ambassador for two years, I was able to reign as Miss Heart of a Tiger for an organization who's vision was to serve the community, and my senior year I student taught a 2nd grade class.

Through all of this I was still able to graduate with honors with a 3.90 GPA.

I can never thank Grambling enough for all of the once in a lifetime experiences it gave me.
"First time" experiences at your HBCU?*
I had several first time experiences at Grambling. I ran in my first Student Government election as a freshman, and I ended up winning.

This election and my first year in SGA served as a catalyst for me. After I won my first election I gained so much confidence, and I became less shy and began joining several other organizations on campus. Later my freshman year I was chosen to be a HBCU All Star Ambassador for the White House Initiative on HBCUs, because of all of my hardwork on campus, the surrounding communities, and my academics.

I was in the first class of students chosen, and I was one of the youngest. Together we were the first students invited to be apart of the annual HBCU Conference in Washington D.C..
Who are the professors that have impacted your life in and out of the classroom? How did they do that?*
The two professors who impacted my life are Dr. Foster and Dr. Newman. They were like my on campus mothers. They would give me advice about anything I needed help with, lend me textbooks when I didn't have one, checked on me constantly if I was sick or missed class, and wrote me letters of recommendation anytime I asked.

Even now that I have graduated, they still give me advice on how to better serve my students in my classroom.
"Get as many application waivers as possible! Those fees add up iver time. Apply for as many scholarships as possible..."
What to date has been your proudest moment @ Your HBCU?
My proudest moment at my HBCU is when I graduated with honors.
What to date has been your happiest moment @ Your HBCU?
My happiest moment was on my last day of student teaching 2 weeks before graduation. I didn't realize how much of an impact I had made on mt students until it was time for me to leave.

The teachers in the school had bought a cake for me and the other student teacher to celebrate our graduation. Although it was a bitter sweet day, I was elated to see the positive influence I was able to give to my students and their families.
How are you positively active on campus? (e.g. clubs, SGA, etc.)
I was in several clubs and organizations on campus. The Society Of Distinguished Black Women, Inc., HBCU All Star Ambassador for the White House Initiative on HBCUs, Who's Who among Students at Colleges and Universities, Student Government Association, Heart of a Tiger service organization, Rude Awakening Talent Organization, Natural Sistahs, GSU Student Ambassadors, Sigma Alpha Pi, Kappa Delta Pi and, The Texas Club
What was your happiest moment in your life to date?
My happiest moment in my life to date is walking into my classroom for the first time, after filling out hundreds of applications and being denied several times.
What's your take on life (in the philosophical sense)?
Life is honestly what you make it. Everyone will go through obstacles, heart break, failure, and sadness, but it is up to you to not allow these things to keep you down. Sometimes it's hard to be positive when you feel like your world is crumbling around you, but as long as you keep hope everything will be fine.
What advice would you give high school students filling out college applications for the first time?
Get as many application waivers as possible! Those fees add up iver time. Apply for as many scholarships as possible, don't always aim for the big money scholarships. Less people are applying for scholarships giving small amounts of money, and that means you have a higher chance of winning it.
If you could only speak two sentences to the youth coming after you what would you say?
Be who you are, don't let other people tell you how you should act and live your life. You know you better than anyone else, don't be afraid to show the world your light.
Grambling State University
Students: 4,863
Under Graduates: 3,883
Post Graduates: 980
Athletics: Grambling State University competes in the NCAA Division I (Football Championship Subdivision for football) in the Southwestern Athletic Conference (SWAC). Currently, the Grambling State University Department of Athletics sponsors Men's Intercollegiate football, along with men's and women's basketball, baseball, track & field, softball, golf, soccer, tennis, bowling and volleyball. RIVALS: Southern University, Prairie View A&M University, and Texas Southern University.
Notable Alumni: Charles M. Blow - 1991 - New York Times columnist** Erykah Badu - Grammy Award-winning artist** Natalie Desselle-Reid - Actress best known for roles in B*A*P*S, Def Jam's How to Be a Player, and Disney's Cinderella** Judi Ann Mason - Television writer, producer and playwright** Burl Cain - Master's degree in criminal justice, now warden of the Louisiana State Penitentiary (also known as Angola)** Ollie Tyler - Mayor of Shreveport; former interim state superintendent of education; former Caddo Parish school superintendent** E. Edward Jones - 1952 - Educator, civil rights advocate, pastor, and former president of the National Baptist Convention of America, Inc., in Shreveport** Edward Joseph Price - 1975 - Member of the Louisiana House of Representatives (District 58), businessman in Gonzales** Alicia Reece - Politician, member of the Ohio House of Representatives (33rd district)** Robert Bobb - Politician and public administrator; Emergency Financial Director for Detroit Public Schools; city manager for thirty years in the cities of Kalamazoo, Michigan; Santa Ana, California; and Richmond, Virginia** Israel "Bo" Curtis - Member of the Louisiana House of Representatives from 1992 to 2008; member of the Rapides Parish School Board from 1976 to 1992** Bettye Davis - Member of the Alaska Senate and former member of the Alaska House of Representatives from the 21st district** Rick Gallot - Democratic member of the Louisiana State Senate for District 29 since 2012; former state representative for the 11th district** Jeff Hall - Member of the Louisiana House of Representatives (District 26), accountant in Alexandria** Patricia Cage-Bibbs - 1972 - Women's basketball head coach at North Carolina A&T State University, Hampton University, and Grambling State University; has over 400 wins in her coaching career** Ronnie Coleman - Professional bodybuilder and eight-time Mr. Olympia winner** Jason Hatcher - 2006 - Current NFL defensive end** Tyree Hollins - professional football player** Doug Williams - former NFL quarterback; MVP of Super Bowl XXII**
Website: http://www.gram.edu/


Latest Trending Interviews
Interviews Featuring "Grambling State University"
Interviews Featuring "Education"