Jonathon Gambrell, Livingstone College- c/o 2013, Education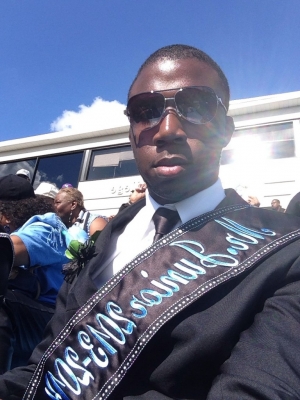 Name : Jonathon Gambrell
HBCU : Livingstone College
Graduation Year : 2013
Major : Education
Email : Jgambrell93@aol.com
Where are you from? Who introduced you to HBCUs?*
Well I am from Hope Mills, NC. The movie "Drumline" introduced me to HBCU's. I always heard my parents talk about North Carolina Agricultural and Technical University and Clark Atlanta University and always gave it the best impression that they were the best HBCU's in the land. I ended up doing my research and fell in love with the history itself.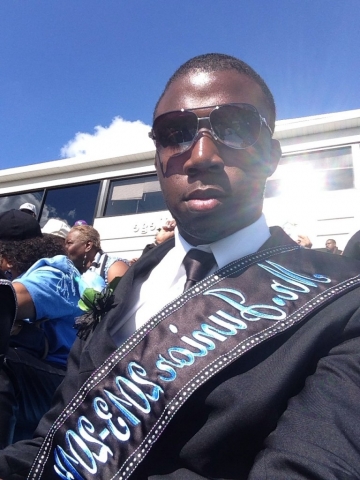 Jonathon Gambrell (Mr. Livingstone 2013-14), a proud student at Livingstone College (Class of 2015) | Image Credit: Jonathon Gambrell
Why did you choose an HBCU over a pwi?*
igh school for me was a struggle. One of my best friends attended the school and told me how well she was doing there. I applied in the spring of 2011 and got accepted for fall 2011 admission. My HBCU has helped me find myself and what I am truly capable of doing.

I have maintained a cumulative grade point of 3.5 all three years thus far. I was going to transfer to a PWI but I didn't want to risk my grades dropping not knowing how well I was going to do at another school.
What is the story of your "experience" at Your HBCU given its heralded status as a stellar and prestigious institution?*
It's what you make it. I have came across a lot of opportunities thus far. Deep in my heart I love my HBCU and will continue to give them praise because this college gave me a chance to attend college and I am making it's forefathers proud with all that I have accomplished thus far.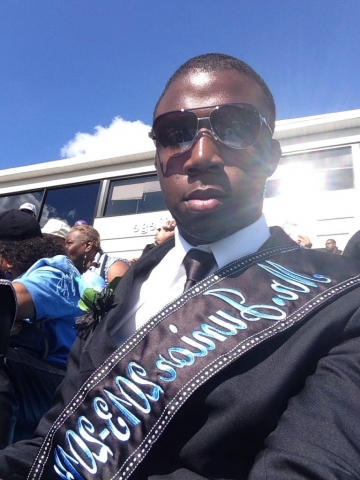 Jonathon Gambrell (Mr. Livingstone 2013-14), a proud student at Livingstone College (Class of 2015) | Image Credit: Jonathon Gambrell
"First time" experiences at your HBCU?*
N/A
Who are the professors that have impacted your life in and out of the classroom? How did they do that?*
All my professors I've had since my freshman year have impacted me to do my best work at all times. I can't single one out because they are the reason why I'm so passionate about my education. As a future educator, I see the light to being successful and role model to my students.
What sports do/did you play at your HBCU? What positions?
N/A
What sports and/or extra curricular activities did you do in High School? And why?
N/A
Best restaurants on/near campus? Best dishes?
Tokyo express. My favorite dish would have to be hibachi steak and shrimp along with rice and pink lemonade on the side. I love Japanese food!
Who invited you to interview with us?
N/A
Your wildest moment at college?
N/A
What is your funniest college story? (everyone has one lol)
N/A
Livingstone College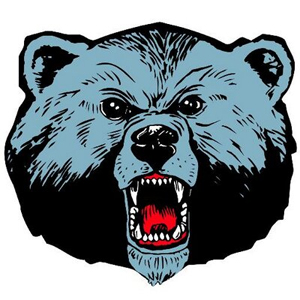 Students: 1,200

Athletics: Livingstone College is a member of the National Collegiate Athletic Association (NCAA), Division II, and the Central Intercollegiate Athletic Association (CIAA). Its intercollegiate sports programs include basketball, bowling, cross-country, football, softball, volleyball, tennis, golf, and track and field.
Notable Alumni: James Emman Kwegyir Aggrey - Preacher, Pan-African thinker and educator** Solomon Carter Fuller - 1893 - psychiatrist who made significant contributions to the study of Alzheimer's disease** Ben Coates - 1990 - Former NFL All-Pro tight end for New England Patriots and Baltimore Ravens** Rev. John Kinard - 1960 - Minister, community activist, and first director of the Anacostia Community Museum in Washington, D.C.** Philip A. Payton, Jr. - The "Father of Harlem"** George James - Professor was a South American historian and author, best known for his 1954 book Stolen Legacy, in which he argued that Greek philosophy originated in ancient Egypt**
Website: http://www.livingstone.edu/


Latest Trending Interviews
Interviews Featuring "Livingstone College"
Interviews Featuring "Education"