Justin Dorsey , Texas Southern University- c/o 2011, Education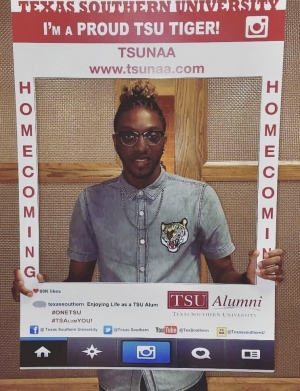 Where are you from? Who introduced you to HBCUs?*
I am from Texarkana, Texas. My mother introduced me to an HBCU when I was in high school.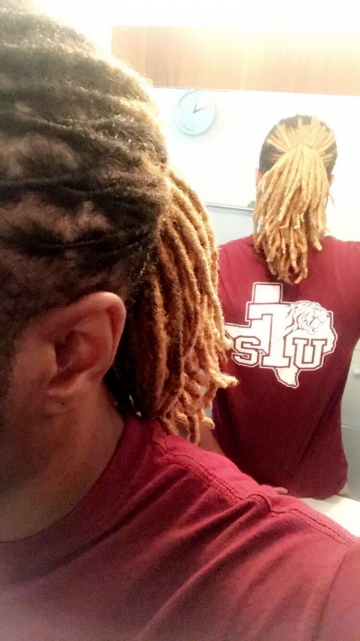 TxSU ON MY BACK
Why did you choose an HBCU over a pwi?*
I chose an HBCU over a PWI because I wanted to learn more about my rich history as a black man.

Also, I wanted to get the full experience of an HBCU, such as the Greek Life, the show style marching band, and to be around people who looked like me.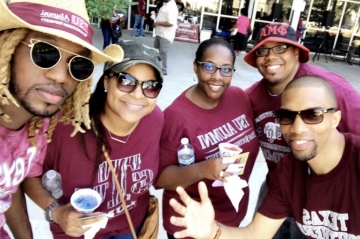 We Are TxSU PROUD!
What is the story of your "experience" at Your HBCU given its heralded status as a stellar and prestigious institution?*
My HBCU is one of the best HBCU's around. At Texas Southern, you are more than just a student. Texas Southern prepared me for real life situations after college.

The first day I stepped on the campus of Texas Southern University I knew I found my 2nd home. After learning my prestigious university's history of existence, I immediately fell in love.

The Ocean of Soul Marching Band and the Frederick Douglas Honors Program offered me a scholarship. The campus organizations, such at the University Program Council gave me the opportunity to meet my lifelong friends. Why not choose Texas Southern University!
"First time" experiences at your HBCU?*
If you ever stepped on the campus of Texas Southern University, you will be amazed. The campus has such a beautiful welcoming atmosphere, you are immediately hooked. The Greek trees on the yard are amazing. The "Tiger Walk" is the place to be at 12 o'clock (noon) everyday.
Who are the professors that have impacted your life in and out of the classroom? How did they do that?*
Some of my professors that made a positive impact in my life while attending Texas Southern were Dr. Goodan, who is now retired, Dr. Cavil, and Dr. Cunningham.

There were several others that also impacted my life, but these three I would like to mention. The first day I met each one of these individuals, was the day my life changed. Each professor pushed me to my limit, saw something great in me, and made sure I was prepared and ready for my profession.

I am truly grateful for the knowledge and experience they were able to pass along to me. I can walk up to them today and they will still remember me as their student.
What are the chants heard most often at the sporting events?
A chant I remember on campus during my tenure was, "T-exas, S-for Southern, U-ni-versity, T-S-U!" Another chant I can recall is "Fire Up Texas Southern, Fire Up, Hey!"
Where is the "yard" located?
The Yard is located in the center of the campus. It's where you will see everyone dressed in their best fashions on their way to class.
Member of a Fraternity?
I was able to join the Gamma Omega Chapter of Kappa Kappa Psi National Honorary Band Fraternity In The spring semester of 2007, while a member in the Ocean of Soul Marching Band. After graduating with my bachelor's degree I joined the Galveston Alumni Chapter of Kappa Alpha Psi Fraternity in the spring of 2012.
If you could only speak two sentences to the youth coming after you what would you say?
You should always support an HBCU, whether it is Texas Southern or not. It is one of the best decisions you can ever make to further your education.
Texas Southern University
Students: 9,646

Athletics: Texas Southern sports teams participate in NCAA Division I (Championship Subdivision for football) in the Southwestern Athletic Conference (SWAC). Texas Southern is part of the Western Division in SWAC divisional sports. Men's varsity sports include baseball, basketball, football, golf, and track and field. Women's varsity sports include basketball, bowling, cross country, golf, soccer, softball, track and field, and volleyball. Texas Southern's most well-known rivals are Prairie View A&M, Southern, Grambling State, and Jackson State.
Notable Alumni: Tray Walker - 2015 - Baltimore Ravens cornerback**Michael Strahan - 1993 - Former NFL defensive end for the New York Giants, Super Bowl Champion, Pro Football Hall of Fame and Black College Football Hall of Fame inductee. Currently a football analyst on Fox NFL Sunday, actor, author, entrepreneur, and co-host of Good Morning America.**Yolanda Adams - 1983 - American Grammy, Dove award-winning Gospel music singer, radio show host, author, actress, judge on BET's Sunday Best and former elementary-school teacher.**Leslie D. King - 1973 - Mississippi Supreme Court Justice**Tony Wyllie - 1993 - Senior Vice President for the Washington Redskins. He has previously worked as an Assistant Director of Public Relations for the St. Louis Rams, the Director of Public Relations for the Tennessee Titans, and Vice President of Communications for the Houston Texans**Joseph Anderson - 2011 - Current NFL wide receiver**Ronald C. Green - 1996 - Current City Controller of Houston and a former member of the Houston City Council**Jim Hines - 1968 - 2 Gold medals at 1968 Olympics, First sprinter to officially break the 10-second barrier in the 100 meters, and former NFL player**(Celebrity Faculty) Matthew Knowles - Communications - Beyoncé Knowles-Carter and Solange Knowles father, founder of Music World Entertainment, former manager for the members of Destiny's Child and Solange, and adjunct instructor in the School of Communication and Jesse H. Jones School of Business.**
Website: http://www.tsu.edu/


Latest Trending Interviews
Interviews Featuring "Texas Southern University"
Interviews Featuring "Education"