Candace Darby, Claflin University- c/o 2013, Marketing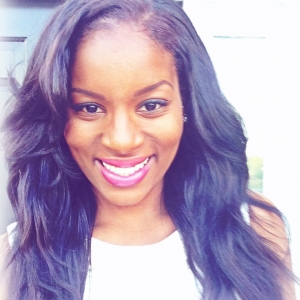 Where are you from? Who introduced you to HBCUs?*
I am from Columbia,SC. My first encounter with HBCU's was through my father who attended South Carolina State University and my aunt who attended Hampton University.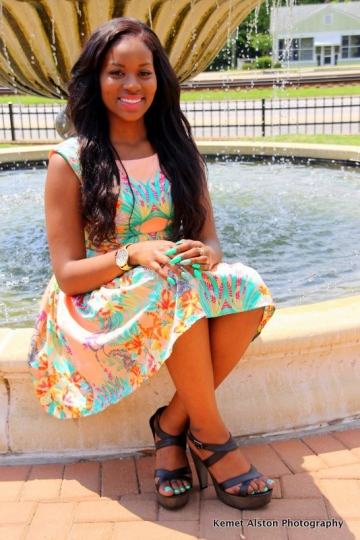 Marketing genius and captivating beauty, Candace Darby enjoying a beautiful spring day! – Image Credit: Candace Darby / Kemet Alston Photography
Why did you choose an HBCU over a pwi?*
I attended a somewhat mixed high school where I was the minority.

I thought "This is the only time in life, as an American, I can choose to only be surrounded by people who look like me."

My most nurturing teachers were always African American and the most supportive. They always cheered me on and seemed like they took my success personal, I wanted to keep this.

My time at Claflin really was somewhat destiny.

I had applied to and been accepted to all of my schools, all of which were HBCU's. I had never even heard of Claflin until my father mentioned it and asked that I applied. After consistent arguing, it was decided I attend Claflin. That's a fight I'm glad I lost.
What is the story of your "experience" at Your HBCU given its heralded status as a stellar and prestigious institution?*
I have really enjoyed growing and excelling at Claflin while I watched the school do the same.

Even in 4 short years the school constantly works towards improvement of its campus, students, and staff. I entered Claflin a little unsure of myself, and academically well, but not reaching my full potential. I left confident, a leader, and ready to take on my goals .
"First time" experiences at your HBCU?*
First love, First roommate, First car wreck.
Who are the professors that have impacted your life in and out of the classroom? How did they do that?*
My most influential professors would probably be Mr. Nsombi, Dr. Robin Davis, and Dr. Boyd.

Each of these professors are more than supportive to their students and challenge them to think and work harder. These are people I went to for advice, recommendations, and any help I needed. Even with their workload, I never saw these people genuinely unhappy.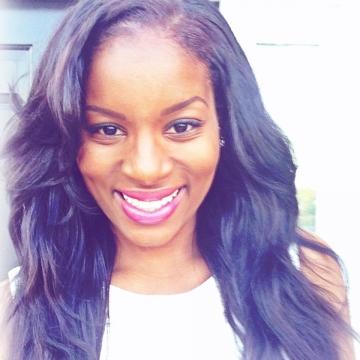 What sports and/or extra curricular activities did you do in High School? And why?
I've always been more of a book person. Lol outside of dance team or step team I was more academic.
Best restaurants on/near campus? Best dishes?
I'm a Asian food fanatic. Only 1 place serves real sushi. Tokyo Steak and Seafood. I also went to Golden China, and Wing Station. Cookouts the most budget friendly/best late night spot.
College crush?
I plead the fifth.
Ghost stories involving buildings or spots on campus?
Actually, not at all.
What is your major? and Why did you choose it?
I majored in Marketing. In all reality, I wanted to go to school for a Fashion major but since Claflin didn't have that I chose the major I felt was most related to the kind of job I wanted.
What to date has been your proudest moment @ Your HBCU?
My proudest moment was becoming a member of Delta Sigma Theta Sorority Inc. and receiving the award for having the highest GPA in my department.
Where are the spots to go to if you wanted to cuddle with your boy or girlfriend?
Nowhere on Claflin! Lol. My boyfriend went to state.
What are the chants heard most often at the sporting events?
"We are the Panther's, From Panther town, and it takes a Panther to knock us down, if you don't like our apples then don't shake our tree cuz we are the Panthers of CU!"

"C, pump it up pump it up, U, Keep it going keep it going, Panthersss, what up what up, C U you know"
Something like that Lol
How are you positively active on campus? (e.g. clubs, SGA, etc.)
Through my sorority, community service, business associations and programs.
Where is the "yard" located?
The "Yard" at Claflin is in generally very small. From the caf/plaza to GTK building is what I guess would be considered the yard.
What and where are the historical places on campus?
The most historical place would probably be around the Tingley building. There you have Tingley itself and the art building which has different sculptures, etc outside.
What to date has been your saddest moment at your HBCU?
My saddest moment at Claflin was….unrelated to the school, passing of a family member.
What situation in your life made you feel like you had arrived into woman/manhood?
Somewhere between paying a bill, looking for apartments, and my mom telling me to file my taxes independently.
How do you deal with racism when you encounter it?
I don't. If you're treating me incorrectly because of my complexion it's either because of your own personal ignorance or because you find yourself to be higher then me.
So I have sympathy because you do not know any better as an adult, and refuse to stoop down to your level.
What's your take on love (in the philosophical sense)?
I always use the poem "The road not taken" by Robert Frost.

Venture out to what you want. You only get one chance to do so. Be you, always, in all ways.
When and how did you discover your passion in life?
In high school, I had this random epiphany to change what I'd been telling my family I wanted since 3rd grade.

I decided to pursue a career I'd love no matter what the income.
How did you overcome your nervousness about going to college?
I was actually really excited about school. I'm independent so I never got home sick and I loved the idea of being a semi-adult.
If you could speak to those family members that have risen but that live forever through you, what words would you speak?
Thank you for every goal you instilled in me, I'm going to make you proud and surpass them.
If you could only speak two sentences to the youth coming after you what would you say?
Never be afraid to be yourself and go for what you want. Never be to weak to work to get there.
Are you a member of a sorority?
I am a Spring 2011 initiate of the Gamma Chi Chapter of Delta Sigma Theta Sorority Incorporated.
I didn't come on campus knowing I would pledge but seeing the work and camaraderie that they had, the way they carried themselves, and the impact they had internationally I knew it was something I needed to be a part of.
Claflin University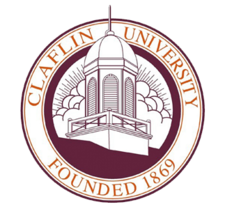 Students: 1,978

Athletics: Claflin University is a member of the Southern Intercollegiate Athletic Conference of the NCAA (Division II). Men's sports include basketball, baseball, tennis, and track and field. Programs for women include basketball, softball, volleyball, tennis, and track and field.
Notable Alumni: Roger Kenton Williams - 1936 - Educator who taught at psychology departments at North Carolina A&T State University, North Carolina Central University, Morgan State University, and University of Maryland-Eastern Shore** Arthur Rose Sr - 1950 - Chair of Art Department (1952 - 1973) at Claflin University; the Arthur Rose Museum at the university was named for him** Dr. Gloria Rackley Blackwell - 1953 - Civil rights activist, professor at Clark Atlanta University** Leo Twiggs - 1956 - Artist and educator at South Carolina State University; the first African American to receive a Doctorate of Arts from the University of Georgia** Joseph H. Jefferson - 1970 - Member of the South Carolina House of Representatives, representing the 102nd District* Cynthia V. Anderson - 1980 - Chief Operations Officer at the U.S. Department of Energy** Bryan Andrew Wilson - 2004 - Gospel Artist** Danny! - 2005 - Recording artist for Okayplayer Records and music producer/composer for MTV's Hype Music production library** E. Roger Mitchell - 1993 - Actor - The Walking Dead, The Hunger Games: Catching Fire**
Website: http://www.claflin.edu/


Latest Trending Interviews
Interviews Featuring "Claflin University"
Interviews Featuring "Marketing"