Chaunteal Webb-Candler, Clark Atlanta University- c/o 2008, Political Science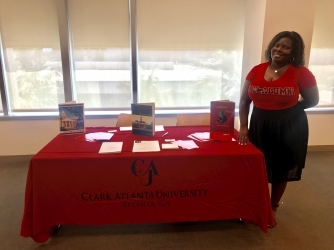 Name : Chaunteal Webb-Candler
HBCU : Clark Atlanta University
Graduation Year : 2008
Major : Political Science
Email : chauntealwc@gmail.com
Where are you from? Who introduced you to HBCUs?*
I am a native San Diegan (California), with the southernmost heart. I was introduced to HBCUs, more specifically my alma mater, in the 7th grade at Lemon Grove Middle School. In our AVID class, we were assigned to complete a higher education research project based off of our interests. A classmate began telling me about Clark University, this black school in Georgia. After finding another Clark University, we searched also using 'black' and there she was THEE Clark Atlanta University. I instantly grew a love for CAU as their Mass Media Arts program was one of the top amongst HBCUs and I was interested in journalism. Although I did not go on to major in that field, I never took my eye off the prize of being a Panther. I realized that I had unknowingly been exposed to HBCUs as I had relatives that graduated from Grambling & Jackson State Universities and Bethune-Cookman College (now University).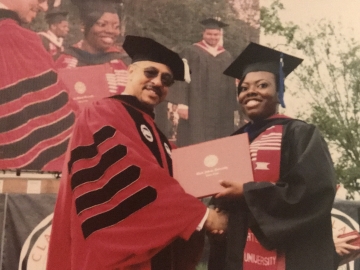 Graduate of Clark Atlanta University, July 2008
Why did you choose an HBCU over a pwi?*
Being raised in SoCal we are overly exposed to Cal States and UCs. I knew I would not end up at one of those institutions first and foremost because I did not want to stay home. After learning about CAU and other HBCUs, although I did NOT want to apply anywhere else (I KNEW I was destined to be a Panther), I did and it was to all HBCUs except to a private institution that had already accepted me.

My overall choice came from wanting to channel my southernmost heart and be around like-minded young adults that looked like me. Also knowing that HBCUs are apart of OUR history and it is ultimately up to US to keep these jewels alive.
What is the story of your "experience" at Your HBCU given its heralded status as a stellar and prestigious institution?*
EPIC - Exceptional, Prestige, Inspiring, and Colorful

Anyone that has been to an HBCU can say that it is one of a kind, but I am known to say CAU is the best of the best! My experience at CAU was EXCEPTIONAL on so many levels; the concern and love from professors, the family atmosphere, homecoming and we cannot not talk about the food! CAU is PRESTIGE from its history. Although a fairly 'young' institution, we come from the rich histories of Clark College, the first four-year liberal arts college serving a large population of African-Americans and Atlanta University, the first to award graduate degrees to African-Americans. I am proud to be an alumna of prestige and excellence.

I was INSPIRED at 12 to become a Panther and did not stop until I completed my matriculation on July 29, 2008. What some do not understand is the buck does NOT stop from there, it merely touches the surface of its beginning. Upon leaving the promenade and halls of CAU,

I took the badge of honor of being an alumna of such an illustrious institution. I further was inspired to not only give back through assisting with recruitment of the finest students to attend CAU, but stress the emphasis of recruitment in the San Diego area. I also am a charter member and president of Clark Atlanta University Alumni Association, Inc. San Diego County Chapter, proud Life Member and serving my second year on the Homecoming Committee. My CAU experience was COLORFUL.

YES, HBCUs are of predominantly black population, but the greatest part of it all is the diversity within our own culture. I met some of the coolest people that I consider dear friends and family and I would not have met them unless I went to CAU.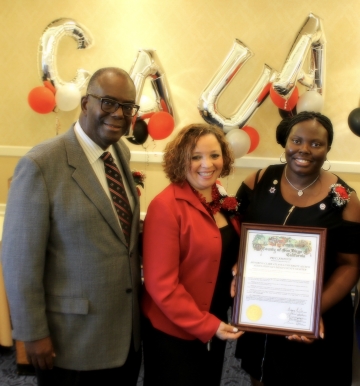 With President Ronald A. Johnson & FIrst Lady Irene Oakley-Johnson at the chartering of CAUAA, Inc. San Diego County Chapter
"First time" experiences at your HBCU?*
I had a lot of first time experiences while at my HBCU. CAU was the first time I had been around so many beautiful black people (that were not relatives) in my life! I come from a city where we are 5%, my high school class of almost 1,000 there were only 33 graduates that looked like me; although overwhelming at first, it was an experience I will forever cherish.

My first time in the state of Georgia and city of Atlanta was to attend CAU. I also had my first real date while in undergrad.
Who are the professors that have impacted your life in and out of the classroom? How did they do that?*
Dr. Betty Clark - My semester at CAU, I fell short of everything I was suppose to accomplish. Out of all my professors, Dr. Clark stuck by my side and pushed me to leave the obstacles behind and press forward. After a self-inflicted, challenging semester, I followed with being recognized on the Dean's List.

Ms. Tamalyn Peterson - In Ms. Peterson's class you HAD to excel and be the best you. She did not tolerate anyone sitting in the back rows and often said that our ancestors fought and marched for years so that we could be at the forefront. This is my attitude in life, I refuse to be in the back or last place. I am the first to sit in the front during a class, meeting, conference, etc. and am quick to demand the best.

Mr. Darryl Ledbetter, Esq. - My last full semester at CAU, I was blessed to be in the company of DLed! I loved his Entertainment Law class and I learned so much from him that I still remember to date. To date I can still call on DLed to get words of wisdom and sound advice from.
Clark Atlanta University
Students: 3,485

Athletics: Clark Atlanta University competes within the Southern Intercollegiate Athletic Conference (SIAC) of the National Collegiate Athletic Association (NCAA), Division II. Men's sports include baseball, basketball, cross country, football and track & field; while women's sports include basketball, cross country, softball, tennis, track & field and volleyball.
Notable Alumni: Ralph Abernathy - 1951 - Civil rights activist** Brenda S. Banks - Archivist, Deputy Director of the Georgia Department of Archives and History and founder of Banks Archives Consultants** Bryan Barber - 1996 - Director of the 2006 film Idlewild** Kenya Barris - Creator and executive producer of ABC's Black-ish** Marva Collins - 1957 - Educator; founder and director of the Westside Preparatory School in Chicago, Illinois** Amanda Davis - News anchor at CBS 46 in Atlanta, Georgia** DJ Drama - 2000 - Music producer** Alexander Jefferson - 1942 - Retired US Air Force Lieutenant Colonel and a member of the Tuskegee Airmen** Robert R. Jennings - President of Alabama Agricultural and Mechanical University** Henry C. "Hank" Johnson 1976 U.S. Congressman, Georgia 4th District Otis Johnson - 1969 - Mayor of Savannah, Georgia** Bomani Jones - 2001 - Sportswriter, Co-Host of Highly Questionable** Kenny Leon - 1978 - Tony Award winning Broadway and film director. Former artistic director of Atlanta's Alliance Theatre** Evelyn G. Lowery - American civil rights activist and leader; marched in the historic Selma to Montgomery March** Mason "Mase" Durrell Bethea - Rapper** Valeisha Butterfield Jones - 2000 - Founder and CEO of the Women in Entertainment Empowerment Network (WEEN), political strategist, youth and women's activist, author and media personality** Eva Pigford - Model/actress; winner of America's Next Top Model Cycle 3** Nnegest Likke - Movie director and screenwriter** Jacque Reid - 1995 - Journalist** Pernessa C. Seele - Immunologist and the CEO and founder of Balm in Gilead, Inc.** C. Lamont Smith - Sports agent, the founder and president of All Pro Sports and Entertainment** Ella Gaines Yates - First African-American director of the Atlanta-Fulton Public Library System**
Website: http://www.cau.edu/


Latest Trending Interviews
Interviews Featuring "Clark Atlanta University"
Interviews Featuring "Political Science"