Yolicia Mitchell , Clark Atlanta University- c/o 2016, Psychology
Where are you from? Who introduced you to HBCUs?*
I am originally from Memphis,Tn, but I moved to Atlanta,Ga my second semester of my senior year of high school. I am the first to go to college in my family. No one really introduced me to HBCU's. I found out about them when I started doing college tours.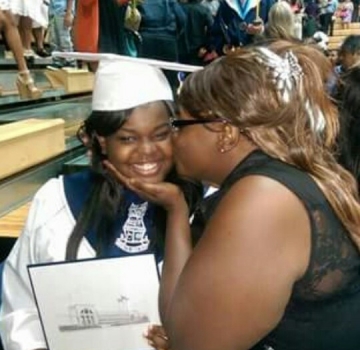 Yolicia graduating from High School, on her way to college! The first in her family to ever do so!|Image Credit: Yolicia Mitchell
Why did you choose an HBCU over a pwi?*
My dream was always to attend college in New York, but that changed when I moved to Georgia. I visited some HBCU's and it showed me that so many amazing African American have left their mark in some way or some form. I realized that I wanted to leave my mark as well.
What is the story of your "experience" at Your HBCU given its heralded status as a stellar and prestigious institution?*
Clark Atlanta University is known for having over-achieving students. Just to be a part of that group makes me feel like I have accomplished something that is bigger than me. I am so happy to be a part of the AUC. I honestly can't wait to make a difference in my community and at my new HBCU!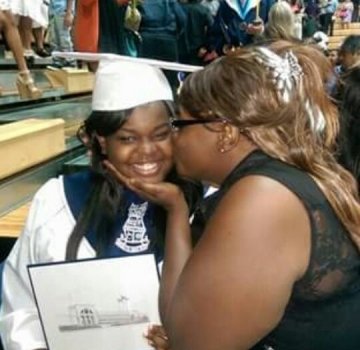 Yolicia graduating from High School, on her way to college! The first in her family to ever do so!|Image Credit: Yolicia Mitchell
"First time" experiences at your HBCU?*
One of my first time experiences in college was learning how to network. I have been offered many great opportunities in Atlanta and I chose to take them. That is why I am transferring to the illustrious Clark Atlanta University as a sophomore. Even though I will miss my friends at my old HBCU people learn and grow.
Who are the professors that have impacted your life in and out of the classroom? How did they do that?*
My psychology teacher has been a big impact on my life in and out of the classroom. She has given me opportunities to work in the community and network with a lot of people. She has also stayed after school to help me prepare for a test or if I needed some help, to help me through a hard time.
What sports do/did you play at your HBCU? What positions?
N/A
What sports and/or extra curricular activities did you do in High School? And why?
N/A
Best restaurants on/near campus? Best dishes?
N/A
Who invited you to interview with us?
N/A
Your wildest moment at college?
N/A
What is your funniest college story? (everyone has one lol)
N/A
Clark Atlanta University
Students: 3,485

Athletics: Clark Atlanta University competes within the Southern Intercollegiate Athletic Conference (SIAC) of the National Collegiate Athletic Association (NCAA), Division II. Men's sports include baseball, basketball, cross country, football and track & field; while women's sports include basketball, cross country, softball, tennis, track & field and volleyball.
Notable Alumni: Ralph Abernathy - 1951 - Civil rights activist** Brenda S. Banks - Archivist, Deputy Director of the Georgia Department of Archives and History and founder of Banks Archives Consultants** Bryan Barber - 1996 - Director of the 2006 film Idlewild** Kenya Barris - Creator and executive producer of ABC's Black-ish** Marva Collins - 1957 - Educator; founder and director of the Westside Preparatory School in Chicago, Illinois** Amanda Davis - News anchor at CBS 46 in Atlanta, Georgia** DJ Drama - 2000 - Music producer** Alexander Jefferson - 1942 - Retired US Air Force Lieutenant Colonel and a member of the Tuskegee Airmen** Robert R. Jennings - President of Alabama Agricultural and Mechanical University** Henry C. "Hank" Johnson 1976 U.S. Congressman, Georgia 4th District Otis Johnson - 1969 - Mayor of Savannah, Georgia** Bomani Jones - 2001 - Sportswriter, Co-Host of Highly Questionable** Kenny Leon - 1978 - Tony Award winning Broadway and film director. Former artistic director of Atlanta's Alliance Theatre** Evelyn G. Lowery - American civil rights activist and leader; marched in the historic Selma to Montgomery March** Mason "Mase" Durrell Bethea - Rapper** Valeisha Butterfield Jones - 2000 - Founder and CEO of the Women in Entertainment Empowerment Network (WEEN), political strategist, youth and women's activist, author and media personality** Eva Pigford - Model/actress; winner of America's Next Top Model Cycle 3** Nnegest Likke - Movie director and screenwriter** Jacque Reid - 1995 - Journalist** Pernessa C. Seele - Immunologist and the CEO and founder of Balm in Gilead, Inc.** C. Lamont Smith - Sports agent, the founder and president of All Pro Sports and Entertainment** Ella Gaines Yates - First African-American director of the Atlanta-Fulton Public Library System**
Website: http://www.cau.edu/


Latest Trending Interviews
Interviews Featuring "Clark Atlanta University"
Interviews Featuring "Psychology"