Kamara Daughtry, Miles College- c/o 2019, Journalism & Mass Communications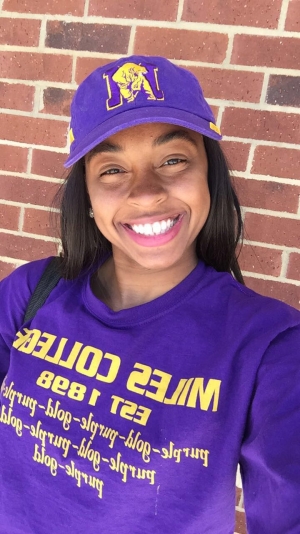 Where are you from? Who introduced you to HBCUs?*
I am from Atlanta, Georgia. I was formerly introduced to HBCU's when I found out my grandmother was one of the founders of Virginia Union University.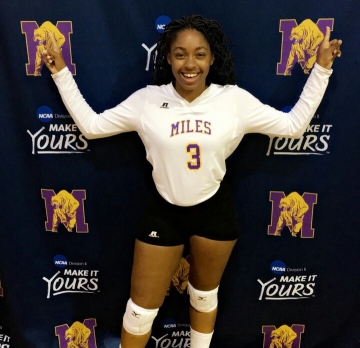 Miles College Volleyball Player
Why did you choose an HBCU over a pwi?*
My goal was to choose a school that best fit my education. It wasn't a matter of PWI vs HBCU , but where can I grow, learn and become equipped for success. I chose Miles College because it is a small liberal arts school with a family-orientated atmosphere.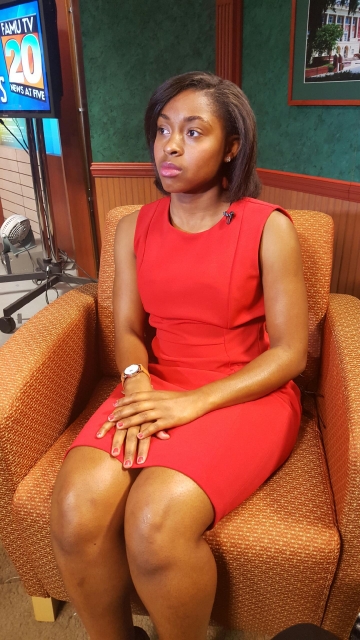 Envisioning my future career
What is the story of your "experience" at Your HBCU given its heralded status as a stellar and prestigious institution?*
The story of my experience ... HOMECOMING was when I truly realized the tradition and love people had for Miles College. 2015 Homecoming made me appreciate the Miles College experience. Food, fun and laughter it was almost like a reunion. The feeling was so genuine and I look forward to homecoming every year.
"First time" experiences at your HBCU?*
As a volleyball player / student-athlete when people don't know your name they will call your number. One day I was walking to the café. A student yelled out #3 ! You did good yesterday in the volleyball game when is the next one?

The next game we had over 200 students appear in the gym. No matter what the outcome of the game was everybody still cheered on Miles College.
Who are the professors that have impacted your life in and out of the classroom? How did they do that?*
Professors they're so many!? I will name a few!

Mrs. Kim Moore - Drove me to my first NABJ short course and has guided me since my freshman year. She is always teaching me tidbits with videography and helping me sharpen my skills

Mrs. Morton - When she sees potential in a student she makes sure she invests her time and effort to properly equip the student. She has improved my skills from freshman year and always remained an advocate for students.

Diane Bivens - "Mama Bivens" a guardian angel to many students. She will help any way possible and always make sure she leads by example. A former communication major and always reminding me that I am star. She has truly been a blessing.

Mrs. Snider - She brought me in her office and said " You will do better on this assignment because I know you can, so re-do it. " She accepts nothing but the best out of her students. Scholarly articles and writing is how she improves students vocabulary.

Dr. Baptiste - Always allowing students to have creative license in and outside the classroom. Leadership is his word. He loves student leaders.

Ms. Nunn- Although she is a political science teacher, she uses my communication skills to promote the department. Ha, we discuss state and local government each time I'm in her class ( I take her as an elective ) and each time I'm with her my knowledge increases about how I can use my resources to make changes in my community with the lessons I learn in her class.

Mr. Bingham - A Humanities instructor that connects with students through 21st century art. You will learn each time you are in his class and he wants nothing but the BEST for his students. He is awesome.

Mr. Stokes - Opened my mind about the African American Experience. So knowledgeable and will quiz students outside the classroom walking to the cafe! Stokes " What is the 15th amendment? "
Student (running to the cafe)
- " The Right to Vote! "
Stokes " Correct, see you in class!"





Miles College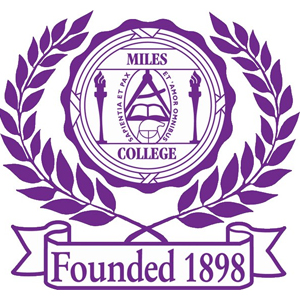 Students: 1,823

Athletics: Miles College competes in the NCAA Division II's Southern Intercollegiate Athletic Conference (SIAC). Miles College offers men's and women's sports that include: basketball, football, volleyball, track, baseball, softball, cross country, and golf.
Notable Alumni: Richard Arrington Jr. - First African-American Mayor of the City of Birmingham** U. W. Clemon - First African-American federal judge in the State of Alabama** Jesse Lewis - Founder of the Birmingham Times** Fred Horn - Politician, Former Alabama House of Representatives** Juandalynn Givan - Politician, Alabama House of Representatives** Bennett M. Stewart - Former Democratic U.S. Representative from Illinois** Cleopatra Tucker - Politician, who has served in the New Jersey General Assembly since 2008**
Website: http://www.miles.edu/


Latest Trending Interviews
Interviews Featuring "Miles College"
Interviews Featuring "Journalism & Mass Communications"