Mariah Ragland, Fisk University- c/o 2016, Business Administration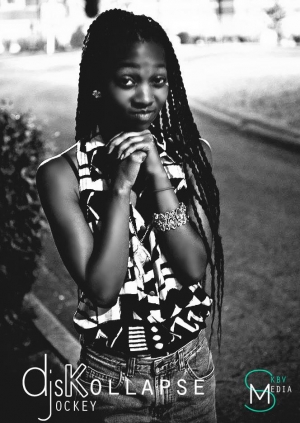 Where are you from? Who introduced you to HBCUs?*
Knoxville, TN

My school took the junior and senior students on a college tour to about 5 HBCUs in the south. That was the second college tour I'd ever taken and the first was an HBCU college tour also.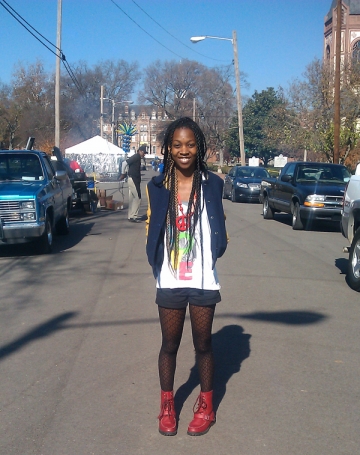 Socialite, FiskU Student, and Talented Turntable Artist Mariah Ragland | Image Credit: Mariah Ragland
Why did you choose an HBCU over a pwi?*
Since pre-school, I have always attended a predominately black school because they were the schools in my community. I grew up with the same kids that knew me my whole life.

Leaving everyone for college, I wanted to make sure that even though I would be alone (in Nashville from Knoxville) that I wouldn't feel alone, or like a minority. Going to a majority black school was familiar to me and while I branched out to another community, another city, it still felt like home.

Scholarship - Feel free to elaborate…: At Fisk, we always say that WE don't choose FISK , FISK chooses US! I had my mind set on Clark ATL University, but a few events happened that ultimately led me to FIsk. They were unexplainable but one event, I was supposed to take a test to determine if I would get a full ride to CAU but the morning of the test, my alarm clock didnt go off. Everything happens for a reason! And that statement is most definitely true.
Upon entering Fisk last year, my freshman year, I have been offered so many opportunities that I wouldn't have got anywhere else. Those opportunities include, earning my own radio show on 88.1FM WFSK in Nashville, DJ for all of the sport events, and an all around great experience.

I came in with a $10,000 scholarship to attend the school and was granted work-study!
I am so glad Fisk chose me!
What is the story of your "experience" at Your HBCU given its heralded status as a stellar and prestigious institution?*
The story of my HBCU experience begins with a few phrases, strolling and partying on the yard, intellectual debates, black pride, cultural enrichment, and my favorite, Soul Food Wednesdays!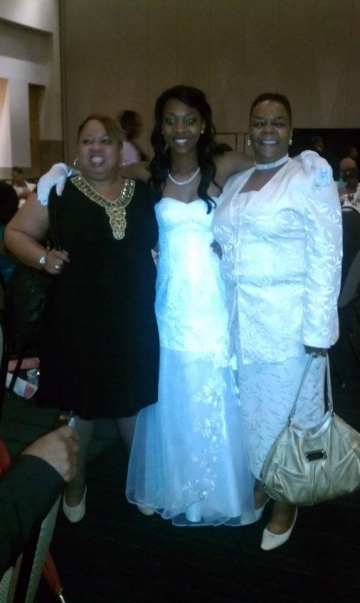 Mariah having a great time with her family at the AKA Debutante Ball 2012 | Image Credit: Mariah Ragland
"First time" experiences at your HBCU?*
First road trip to Wisconsin! The trip was completely; a few students and I stayed at Ripon college for the weekend. Ripon is a predominantly white institution and every other year we go there and stay in there dorms and hang with their students to bring diversity to their campus. They also travel to Fisk every other year that we don't visit. The experience was very exciting and I would go back any time!
Who are the professors that have impacted your life in and out of the classroom? How did they do that?*
All of my business management professors are leaving quite the impact, Professor Umontuen especially.

He is my academic advisor and teaches courses in Business communication. He takes the time out to help me figure out what I need to get done to get me where I need to go and I respect that!

Best restaurants on/near campus? Best dishes?
Fisk University has a place to eat when students don't want ordinary cafe food. They can eat in the school's subshop, which serves hot foods such as turkey burgers, chicken phillys, hamburgers, blackbean veggie burgers, delicious fries and more!
How are you positively active on campus? (e.g. clubs, SGA, etc.)
I DJ all of the sport events: volleyball, basketball and anything else indoor. I also DJ other events like campaign week and parties that happen throughout the year.

I'm on the school's radio station every Sunday at 6pm central hosting my show, The KO Show playing music from Movie Soundtracks and new hip hop and R&B for college students.

In High School I was the Class and Student Body President and also President of Lady Esquires Jr. Sorority.
I was an AKA Debutante and I volunteered in my community every chance I got. And of course, I was still DJing frequently as Miss DJ Kollapse.

I was also on the Fisk University's Ladies Of RAGE dance team for the first semester of the year.
Where is the "yard" located?
The middle of the beautiful campus! The yard is the heart of our campus.
What and where are the historical places on campus?
Jubilee Hall is the most historic building on campus named after the famous Jubilee Singers who toured the world, including singing for Queen Victoria in Europe, in 1871.The proceeds from the tour allowed construction of the building.

It is the first permanent erected in the south for the education of Blacks.

Fisk University's Jubilee Hall History, Dr. Reavis Mitchell from African American Registry on Vimeo.

Today, it serves as the dorm-hall for Freshman girls. Inside the dormitory is one of three elegant rooms, The Appleton room, which features a large painting given to the University by Queen Victoria and a 14th-century ceiling from the Castle Polheim in Austria.
How did your HBCU prepare you for a diverse workplace?
While I do attend an HBCU, it is one with other races also, including white, hispanic, and many others. We also work with other schools to learn diversity, which I will elaborate further later in the interview.
What advice would you give high school students filling out college applications for the first time?
Fill them out completely ! Apply to schools that aren't even in your top 5 of attending because you'll never know what schools want you more than you want them, those are the schools that could offer scholarships. Those are also the schools you'll grow to love the most!
If you could only speak two sentences to the youth coming after you what would you say?
There will always be parties to attend so don't let them become a distraction. Be open to NEW opportunities, new people and keep your focus on the main goal, even if it might change !
How did your HBCU help you to transition into your careers workforce?
Fisk University keeps the students updated with potential internships all the time. We also have seminars and lectures happening around campus all time for whatever major we have. We are also ready to enter the workforce with appropriate dress-code because Fisk most definitely sets the standard on dress-code and appropriate conduct.
Fisk University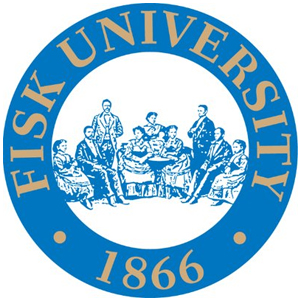 Students: 700+

Athletics: Fisk University is part of the National Association of Intercollegiate Athletics (NAIA) Division I level, primarily competing in the Gulf Coast Athletic Conference (GCAC). Men's sports include basketball, cross country, tennis and track & field; women's sports include basketball, cross country, softball, tennis, track & field and volleyball.
Notable Alumni: Nikki Giovanni - 1967 - poet, author, professor, scholar** Otis Boykin - 1942 - Inventor, control device for the heart pacemaker** Gregory "DJ GB" Byers - 2013 - DJ, Producer** William L. Dawson (politician) - 1909 - U.S. Congressman (1943–1970)** Charles Diggs - United States House of Representatives Michigan (1955–1980)** Rel Dowdell - 1993 - Acclaimed filmmaker** James J. Durham - 1880, 1885 - Founder of Morris College** Venida Evans - 1969 - Actress, best known for IKEA commercials** John Hope Franklin - 1935 - Historian, professor, scholar, author of landmark text From Slavery to Freedom** Esther Cooper Jackson - 1940 - Founding editor of Freedomways Journal** Leonard Jackson (actor) - 1952 - Actor, Five on the Black Hand Side; The Color Purple** Matthew Knowles - 1973 - Father and former manager of Beyoncé, founder and owner of Music World Entertainment, and adjunct professor at Texas Southern University** Hon. Hazel O'Leary - Former U.S. Secretary of Energy** Alma Powell - Wife of Gen. Colin Powell** Margaret Murray Washington - 1890 - Lady Principal of Tuskegee Institute and third wife of Booker T. Washington** Ida B. Wells - American civil rights activist and women's suffrage advocate** Frederica Wilson - 1963 - U.S. Representative for Florida's 17th congressional district**
Website: http://www.fisk.edu/


Latest Trending Interviews
Interviews Featuring "Fisk University"
Interviews Featuring "Business Administration"