Rafiel Davi Davi, South Carolina State University- c/o 2016, Music
Where are you from? Who introduced you to HBCUs?*
Im from North Charleston, South Carolina. My first experience with an HBCU, I believe, was in 4th grade. I was living in Atlanta and my aunt took me to the Atlanta Football Classic to see FAMU vs Tennessee State. This was the first college game I had been to since my uncle had graduated from the Air Force Academy a year prior. The atmosphere was crazy and sitting in the suites at the dome getting free hotdogs sure helped with the experience lol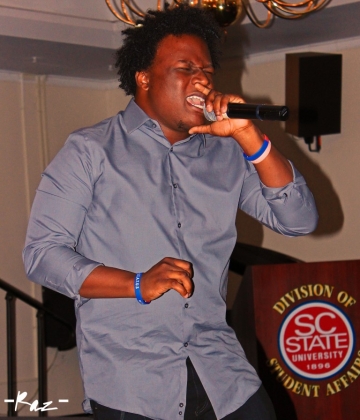 Rafiel performing at the Delta Sigma Theta Open Mic
Why did you choose an HBCU over a pwi?*
After that game, I attended many events hosted by HBCUs. I attended the SC State football game vs The Citadel in Charleston. I had also been on two "Black College Tours" hosted by the YMCA. I enjoyed every college I attended. I'm big on energy and vibes and the PWIs I visited never gave me that real "at home" vibe. I don't think it actually dawn on me at the time, because I was so young, that the image of our people in a positive light really does play an impact on how you view yourself.

Sadly, I wasn't accepted to any of the HBCUs I initially applied to coming out of high school. I was pretty disappointed. The PWI I attended my freshman year didn't really make me feel comfortable so I decided to transfer. I reapplied to a different set of HBCUs and was accepted to all of them. I chose State!
What is the story of your "experience" at Your HBCU given its heralded status as a stellar and prestigious institution?*
I loved my experience. I love people so it wasn't hard for me to love the campus life. To be completely honest at one point i didn't want to finish college. I was literally in my last year. I had a few setbacks that kind of made me want to stop. But, every time I looked at the negatives, I always thought of the positives and continued to ask myself, "Do I really want to be away from the campus right now?" The fact that i was almost done with school played a factor as well lol. In all honesty, there's a lot of love at State that definitely didn't get at my first school.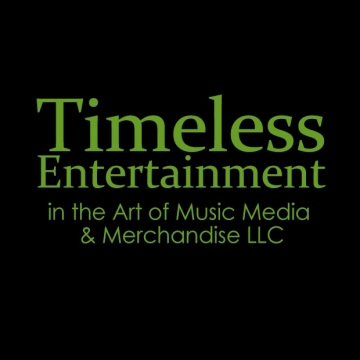 Timeless Entertainment,LLC, Owned by CEO Rafiel Dav
"First time" experiences at your HBCU?*
I started doing music when I was in 6th grade. It wasn't until my senior year of high school I decided to be a recording artist. I've been performing since 6th grade as well but those were for band and for my african drumming group. Never had I performed songs that I wrote. But, my first year at State, my friends and I performed at a fashion show. They had more experience than I did so they were ready. I was in the hallway pacing, nerves going crazy, while they were on the stage. When my part of the song came up, I walked through the door and started rapping. The crowd went wild and it just boosted my confidence. Had a brother doing somersaults on the stage lol. The experience was crazy and we ended up in the school paper. I will NEVER forget that experience. I actually go back to that in my mind every time i perform.
Who are the professors that have impacted your life in and out of the classroom? How did they do that?*
Dr. Steven Reid, Dr. Rouse, and Mr. Haynes were the ones who really kept me humble and focused on my goals.

Dr. Reid was my advisor and trumpet instructor. He went to bat for me on plenty occasions and he was always there in his office if you needed to just get away. I think every student needs that.

Dr. Rouse was my speech teacher. He pushed me to understand more about public speaking. He would tell me, "You have the potential to be a great speaker," while putting an F in the grade book for my speech. (like i said, humbling lol). I use to want to do the assignments my way so when I decided to no be stubborn I made good grades.

Mr. Haynes was my supervisor in the Recital Hall where I did sound engineering. He was another person that humbled you as well. When you felt like you were great he would show you someone in the field that was greater. So it made you work harder.

Timless Entertainment, Mr. Davis' company|Image Credit: Timeless Entertainment, LLC
South Carolina State University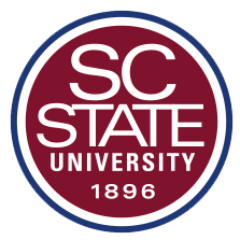 Under Graduates: 3,000

Athletics: South Carolina State University is a charter member of the Mid-Eastern Athletic Conference (MEAC) and participates in NCAA Division I (FCS for college football). South Carolina State University offers basketball, soccer, volleyball, softball, cross country, track and field, and tennis for women, and basketball, tennis, track and field, cross country, and football for men.
Notable Alumni: Kára McCullough - 2013 - Miss USA 2017, Miss Washington District of Columbia USA 2016** Deacon Jones - Former Professional football player for the Los Angeles Rams, San Diego Chargers, and Washington Redskins; inducted into the Pro Football Hall of Fame in 1980** Phillip Adams - 2010 - Current NFL defensive back** Rafael Bush - 2010 - Current NFL defensive back**
Website: http://www.scsu.edu/


Latest Trending Interviews
Interviews Featuring "South Carolina State University"
Interviews Featuring "Music"