Randy Henley , Florida A & M University- c/o 2013, Psychology
Where are you from? Who introduced you to HBCUs?*
I was born in Fort Lauderdale Fl but I was raised between Miami and Memphis Tennessee.

While in Memphis I attended Olivet Baptist Church and Melrose High school in the historic Orange Mound neighborhood. It was a combination of the two that exposed me to some phenomenal HBCU alum and the culture. I was intrigued.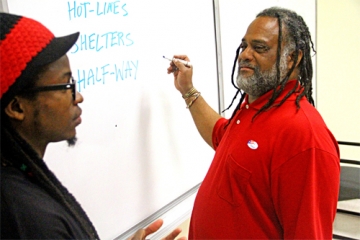 Dr. Dennard educating the young mind of a student at FAMU | Image Credit: thefamuanonline.com
Why did you choose an HBCU over a pwi?*
The idea that I could receive a comparable education and a cultural immersion experience that would show and expose me to a side of my people that I had not fully experienced or understood while growing up.

FAMU has a rich and storied history here and abroad. Beyond that, the few Black male educators that I was fortunate to run across had walked these hallowed hills. We say "those who walk these hallowed hills must choose to give back to them." I guess you can say I am a part of what they have given back to continue the legacy.
What is the story of your "experience" at Your HBCU given its heralded status as a stellar and prestigious institution?*
The best way to put it is to say in climbing this hill, there are things that you will need and things you will need to leave as you go along the path if you are to reach the zenith.

That simply means FAMU changed me from a boy with hopes and dreams into a man with plans and goals. I am now ready to make my mark on this great world.
"First time" experiences at your HBCU?*
Jeez! I've had so many firsts since I arrived here. There was my first un-chaperoned road trip, my first job interview, my first job which had nothing to do with my first interview, and many more.

There were also the more illicit first time which include alcohol and other substances.

The funny thing is the idea that parents, faculty, and law enforcement have seen it a million times and know how to guide you beyond it even if they don't intervene in a conventional manner.
Who are the professors that have impacted your life in and out of the classroom? How did they do that?*
Are you trying to get me caught up in a case of bias? There are so many. Dr. Dana Dennard, Dr. Kinchlow, Dr. Carolyn Council,and the entire Psychology Department.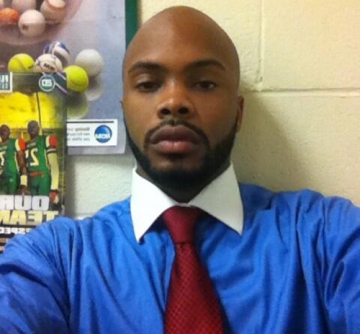 "FAMU has a rich and storied history here and abroad."
Best restaurants on/near campus? Best dishes?
Olean's! They have some pretty good soul food and Ms. Olean believes in piling your plate without emptying your pocket. Lindy's is pretty good too.

There are other places but, those are mostly chains that can be in any city.
College crush?
Is this being recorded? I plead the fifth!

No, seriously… I was infatuated with my high school star for a long time. Beyond that, I wouldn't call them crushes.
What sports and/or extra curricular activities did you do in High School? And why?
I was in SGA, peer counseling, marching band, orchestra, varsity football, and track & field.
Ghost stories involving buildings or spots on campus?
I was once asked if I believed the stray cats that roam campus could be the spirits of past university presidents that keep a constant watch over the university.
What is your major? and Why did you choose it?
Psychology. I wanted to understand the very foundation of humanity, the way the mind works. This foundation is used to understand all realms and all levels of interaction.
What to date has been your proudest moment @ Your HBCU?
The day a freshman told me that he had been told to find me for guidance. It's crazy how lost you think you are until someone asks you for advice that you can actually deliver.
Where are the spots to go to if you wanted to cuddle with your boy or girlfriend?
HA! I have this open air spot that overlooks the entire city with campus at your back. It's pretty awesome but I'm as single as a lost dollar bill. Most people like the gazebos around campus.

Really, being on a hill provides nice views from most buildings and even certain open spaces on the ground. I see young couples enjoying these spots regularly and I have to laugh at memories.
What are the chants heard most often at the sporting events?
"Do you wanna be a (insert competition's puny mascot)? Hell nah!" 2x "So what ya gonna do? Go to FAMU!"2x

Then there is the most ominous STRIKE. No words are needed. The hissing and the strike have a way of rousing the crowd more than any chant.
How are you positively active on campus? (e.g. clubs, SGA, etc.)
I may be the king of volunteers. I also worked as a peer sex health educator. I hated it at times but students began to call me the "condom man" because I was the guy to look for if you needed condoms, lube, dental dams, screenings, or just answers.
Where is the "yard" located?
The world renowned FAMU Set. The Set is actually a stretch of about 200 yards that spans the central portion of campus from between Lee Hall (administration) and the Quadrangle to Student Activities.
What and where are the historical places on campus?
ALL of the buildings. Many of our buildings are designated historical landmarks. There's Coleman Library (affectionately called Club Coleman) which once housed the FAMU College of LAW before the state abruptly voted to close the program and divert funds to the neighboring PWI to start a law school.

The building I frequent most is Foote-Hilyer Administration Complex (FHAC) which houses the bulk of our administration offices, our clinic, and financial aid.

Foote-Hilyer was initially opened to serve as the only hospital for people of color in northern Florida. The full-service hospital was owned and maintained by the university as a service to the community.
What to date has been your saddest moment at your HBCU?
November 19, 2011. I'm an athletic trainer at my university, and I had just gotten back to my apartment here in Tallahassee since we got on the road immediately after the game. I was sitting and discussing the weekend with my brother.

We both happened to glance at Twitter at the same time and we saw it. "Rest in peace to FAMU's fallen drum major" It read like a nightmare in text.

Sadly, many of us can't honestly remember the culture of FAMU before Robert Champion lost his life. I knew that night FAMU would never be the same. I didn't want it to. We needed to make major changes if FAMU would survive.
What situation in your life made you feel like you had arrived into woman/manhood?
The day my mom called to ask if I needed anything as far as food and bills but I ended the call by telling her I was sending her some money for her bills and leisure.
How do you deal with racism when you encounter it?
I used to get angry. I've learned not to blame individuals for the ignorance they have inherited. It only requires my response if there is a political or physical significance.
When and how did you discover your passion in life?
I knew that I wanted to be an agent but never felt the power of that passion. Then I was standing on the sideline at the Florida Classic in 2010, my first year as an athletic trainer. In a span of four minutes the bands were battling as only two powerhouse bands can.

Beyond the bands though, there was the most spectacular collegiate game I've ever witnessed taking place on the field. The teams were fighting for true glory in the MEAC. Bethune was undefeated and FAMU was totally disrespecting that claim to fame.

They played ball in a way my high school coaches had described ball to me from years long before I came to exist. The feeling in that stadium could never truly be put into words. *I've attached the video of that exact span. If you listen to the announcer, you can hear exactly what was occurring on the field.
What's your take on life (in the philosophical sense)?
My life is barely a blip on the grand timeline of existence. I will live out loud and make the most of this short ride in an effort to have something positive that lasts long beyond me.
How did you overcome your nervousness about going to college?
I'm not sure I was ever really nervous. I've moved around so much in life that I never have a lasting problem with adjusting.
Are you a member of a fraternity?
I didn't. My level of interest was never sufficient for me to waste space in someone's organization when I knew I'd never be a productive member.
It makes no sense to join an organization and not be productive.
If you could speak to those family members that have risen but that live forever through you, what words would you speak?
You paved the way and told me I could make it through. I half believed you but I had no clue how it would happen. Here I am now. I wish you were here. I understand that you were ready to move on to the next step. I know you see it all and that is what held me when things got shaky. Thank you.
If you could only speak two sentences to the youth coming after you what would you say?
I was there and I made it. You're there and you will make it too.
Florida A & M University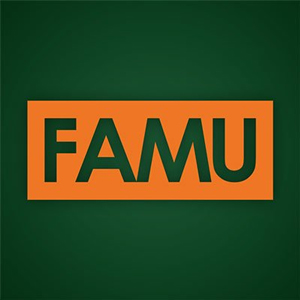 Students: 9,614

Athletics: Florida A&M University is a member of the Mid-Eastern Athletic Conference and participates in NCAA Division I-AA. FAMU offers men's sports in baseball, basketball, football, golf, swimming, tennis and track and field. It offers women's sports in basketball, bowling, softball, swimming, wrestling, tennis, track and field and volleyball.
Notable Alumni: Wilbert Bryant - Former Secretary of Education of Virginia** Raymond A. Brown - Attorney whose clients included Black Liberation Army member Assata Shakur, boxer Rubin "Hurricane" Carter and "Dr. X" physician Mario Jascalevich [2] Arthur R. Collins - 1982 - Founding partner of the Collins Johnson group, a strategy, policy and communications firm established in 2011** John W. Thompson - 1971 - Chairman and former President and CEO, Symantec Corporation; former VP IBM; part owner of the Golden State Warriors** Corrine Brown - 1969 - Current U.S. Congresswoman Andrew Gillum - Current Mayor of Tallahassee, Florida Alcee L. Hastings - Current U.S. Congressman Mia L. Jones - 1991 - Current member of the Florida House of Representatives Gwendolyn M. Miller - Chairwoman of the City Council in Tampa, Florida, District 1 David Scott - Current U.S. Representative from Georgia's 13th congressional district John W. Williams - Current Inspector General of the South Florida Water Management District Althea Gibson - Tennis player Daniel Sunjata - Actor, Broadway actor Gregory Anderson - Film producer (Tri-Destined Studios) Rob Hardy - Film producer (Rainforest Productions) T'Keyah Crystal Keymah - Actress Pam Oliver - Sports anchor William Packer - Film producer (Rainforest Productions) Angela Pitts - Contestant on Flavor of Love 3 and winner of I Love Money 2 Angela Robinson - Actress Anika Noni Rose - Tony Award-winning actress Peyton Alex Smith - Actor Common - attended - Music Artist K.Michelle - R&B singer Tyrese Gibson - attended - Singer, actor, author and producer stic.man - Member of hip-hop group Dead Prez M-1 - Member of hip-hop group Dead Prez Bernard Kinsey - Owner of one of the largest African-American art collections
Website: http://www.famu.edu/


Latest Trending Interviews
Interviews Featuring "Florida A & M University"
Interviews Featuring "Psychology"