Monaé Howard, Dillard University- c/o 2016, Political Science
Where are you from? Who introduced you to HBCUs?*
I am from Pass Christian, MS. I was introduced to HBCUs in high school at the college fair.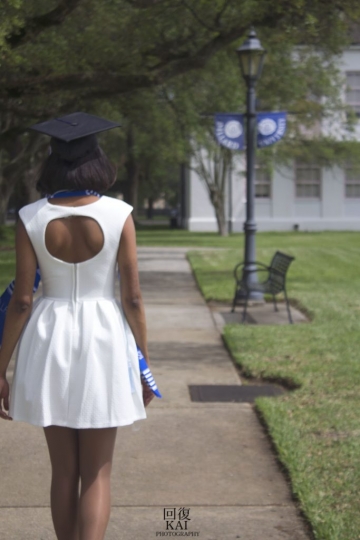 Monaé Howard looking towards the future as she embarks on her journey to become an attorney for the US Air Force
Why did you choose an HBCU over a pwi?*
Actually, an HBCU was not my first choice. I was enrolled to attend Loyola University in New Orleans,a PWI, for sports, but strangely enough they sent me a letter the week before classes started stating I was suppose to attend summer school. I had no prior knowledge of this, so I was told to attend a University for a semester and transfer to Loyola. I was like "Okay Monaé you have to find a school to go to for a semester." I chose Dillard University. I did not plan on staying at Dillard, but the family atmosphere and the love I felt from faculty, staff, and my peers made me stay. Staying is still the best decision I have ever made.
What is the story of your "experience" at Your HBCU given its heralded status as a stellar and prestigious institution?*
A Dillard University experience is not anything one would find anywhere else. It is truly what you make it. Dillard University is my home away from home. I have people at my university I know I can call if anything goes wrong or I'm having problems in my personal life and academically.

I have made some amazing friends that I have grown with and love like they were blood sisters and brothers. I love my HBCU experience. I love the opportunities my university offers from spending the summer at The University Of Houston Law Center for a Pre-Law program to attending conferences in Washington,D.C to broaden my perspectives on different cultures. Dillard has provided me with so much experience in my field of study and for my future career. I do not believe that any other school could have done this for me.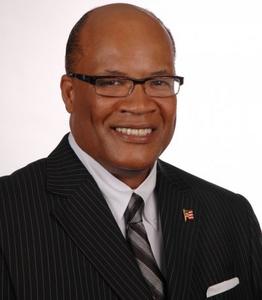 "Dr. Gary M. Clark is a political analyst, strategist, and commentator. He is a Barron Hilton Endowed Professor in Political Science, and Revius O. Ortique, Jr., Endowed Chair in Politics, and Social Thought at Dillard University.
"First time" experiences at your HBCU?*
I am from conservative Mississippi where not a lot goes on, including not knowing much about black history. Being at Dillard University, it was my first time to truly learn about myself. I was able to lead others on campus, learn about my culture and history in depth.
Who are the professors that have impacted your life in and out of the classroom? How did they do that?*
Dr.Gary Clark is my all time favorite professor at Dillard. He is real laid back and wants all of his students to succeed. He allowed for us students to participate in local campaigns, and he constantly let my colleagues and I know no matter what, a Dillard Political Science student is the best student.
Dillard University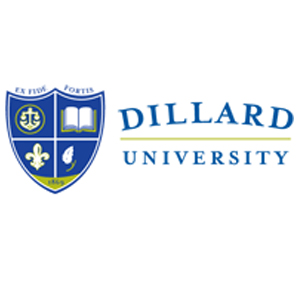 Students: 1,250

Athletics: Dillard University is a member of the National Association of Intercollegiate Athletics (NAIA), competing in the Gulf Coast Athletic Conference (GCAC). Men's sports include basketball, cross country and track & field; while women's sports include basketball, cross country, track & field and volleyball.
Notable Alumni: Michelle Obama - 2014** Spike Lee - 2004 - Doctor of Humane Letters** Shirley Franklin - 2004** William H. Cosby, Jr. - 2006 - Doctor of Education** Hillary Clinton 2007 - Doctor of Humane Letters** Roberta Flack 2007 - Doctor of Humane Letters** Dwayne Thomas - 1980 - CEO, Medical Center of Louisiana, New Orleans** Marian Wright Edelman - 1989 - Doctor of Humane Letters** Ellis M. Marsalis, Jr. - 1955 - Accomplished jazz pianist and music educator; father of jazz artists: Branford, Wynton, Jason and Delfeayo; retired Director of Jazz Studies, University of New Orleans** Lou Rawls - 1988 - Doctor of Humane Letters** Robert E. Johnson - 1988 - Doctor of Literature** Shirley Chisholm - 1985 - Doctor of Humane Letters** Martin Luther King, Sr. - 1980 - Doctor of Humane Letters** John Hope Franklin - 1979 - Doctor of Humane Letters** Benjamin E. Mays - 1975 - Doctor of Humane Letters** Coretta Scott King - 1978 - Doctor of Humane Letters** Mitchell W. Spellman - 1940 - Founding Dean of the Charles R. Drew University of Medicine and Science; Professor of Surgery Emeritus of Harvard Medical School; director, Academic Alliances and International Exchange Programs at Harvard Medical International** Joyce M. Roche - 1970 - President & CEO of Girls, Inc.; former President and Chief Operating Officer of Carson, Inc.; the first female chairperson of the Dillard University Board of Trustees** P.B.S. Pinchback - 1885 - First African-American Governor in the United States; 24th Governor of Louisiana** Alice Dunbar Nelson - 1892 - Women's rights activist and wife of Paul Lawrence Dunbar** Garrett Morris - 1958 - Comedian/actor (Saturday Night Live, The Jamie Foxx Show)** Michael D. Jones - 1982 - Partner, Kirkland & Ellis; Georgetown Law Center Alumni of the Year Award (2010)** Patrick O. Jefferson - 1990 - Member of the Louisiana House of Representatives for District 11; lawyer from Arcadia** James W. Ames - 1882 - Founder, Dunbar Hospital, the first black hospital in Detroit, MI**
Website: http://www.dillard.edu/


Latest Trending Interviews
Interviews Featuring "Dillard University"
Interviews Featuring "Political Science"